If you're diagnosed with plantar fascia inflammation, there's no doubt you're constantly told to stretch properly and work on your running form.
That's all crucial, but if you don't pair it with the right footwear, you could still end up with a painful stride.
In this post, we go over some of the best ASICS for plantar fasciitis and how you can judge a shoe's compatibility with your needs. Let's jump right in!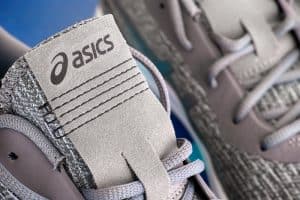 How to Find the Best ASICS for Plantar Fasciitis
The thing about buying shoes is that there isn't a hard and fast set of rules to guide you.
That's because gait, usage patterns, and foot lasts are different for each one of us. Add plantar fasciitis to the mix, and you're in for a challenge.
Yet, you can get a close enough match to relieve foot pain if you know what factors to consider before committing to a new shoe:
Cushioning Level
Besides feeling like you're walking on clouds, cushioning absorbs shocks that would've otherwise hit your foot. For maximum cushioning, go for the Gel-Nimbus line.
This reduces the pain from an inflamed plantar fascia. Since ASICS uses gel cushioning technology, it can also add a bit of bounce that pushes your stride forward.
Plus, fluffy padding can cut down the break-in period short. Double win!
Arch Support
Judging a shoe's arch support from the foam density alone can be a mistake. Instead, you want to get a feel of how your arch fits inside.
As a general rule, you want to get a shoe that's only slightly flexible at the toes. Everything else, arch included, should be firm and supported.
This keeps your foot from straining or pulling a tendon, leading to a painful plantar injury.
Heel Counter
Sometimes, the shock from a loose shoe can cause heel pain. That's why it's always a plus to have a supporting heel counter.
This is particularly useful for a running shoe since those slip out the most at back.
Heel-toe Drop
Some might think that "zero drop" in a minimalist shoe is better simply because it's closer to running bare feet, but that's not necessarily true.
For plantar fasciitis, a higher heel-to-toe drop can relieve the tension on the foot. Thankfully, the drop range for most ASICS shoes in this review is 10-15 mm.
If you want extremely low drops like 4-6 mm, you might want to check out some New Balance and Saucony shoes. These would work for knee and hip injuries.
The key here is to gradually reduce the drop value to avoid an overload injury.
Top 9 Picks: Best ASICS for Plantar Fasciitis:
Many ASICS running shoes can help support the plantar fascia with gel cushioning for shock absorbance and heel counters.
To pick the best shoe for your needs, let's take a look at our top contenders:
While most options on the list cater to either a neutral or overpronator runner, the Gel-Nimbus is a good fit for underpronators.
It also offers the highest cushioning rate of all ASICS shoe lines.
The Gel-Nimbus 22, in particular, stands out mainly because of how its 25-style selection suits all tastes.
As a plus, the FluidRide structure that ASICS uses in the midsole combines a lightweight spongy Soltye base with a bouncy SpEVA. Together, they keep your foot protected from stride shock in a running shoe that only weighs 9 oz.
What's even better is how the FluidFit mesh balances support and comfort through selective stretching.
Key Features:
Trusstic support for underpronators with a high arch
Heel clutching system to prevent slippage
Steep heel-toe drop (13 mm) for relieving plantar fascia pain
FluidRide midsole bounces off the shock without weighing down the shoe
FluidFit mesh fabric readjusts to your foot shape with every stride
Extra cushioning at the ball of the foot when compared to the Gel-Nimbus 21
What People Say:
One recurring comment is how soft the padding feels, even for people who used to get shin splints.
On the downside, the gender-specific Trussic system here means that it's not an ideal option for a wide foot or bunions.
Also, the FluidFit mesh can wear down quickly with rough usage.
The Gel-Kayano 27 is an 11.1 oz stability shoe that's considered one of the best options for distance running on flat feet.
Its strong points are the arch support and the iconic FlyteFoam cushioning system made of Kevlar and polyester.
Quality-wise, they're similar to the Brooks Adrenaline GTS 21, but they're more affordable.
When compared to older Gel-Kayano models, the 27 shoe has softer cushioning, which is great for pain relief.
The Gel-Kayano 28 model is lighter and has more cushioning for overpronators. However, we went with the 27 because it balances stability with a moderate price tag.
Key Features:
Provides adequate arch support for flat feet
External heel counter for added stability
Has both a rearfoot and forefoot gel cushioning to soften the landing shock
FlyteFoam Propel cushioning to reduce plantar fasciitis pain
Breathable and lightweight thanks to the jacquard upper mesh
What People Say:
Users often find that the toe box is a bit tighter than the previous models. The crossover shank is also replaced by a solid plastic cap, which can be restrictive for some people.
Additionally, Gel-Kayano 27 has a shorter lace. So, if you need to do supportive ties, you might need to replace the original lace with a regular 60 in one.
Between the men's and women's Gel-Kayano 27, you get the same dynamic Duomax side foam and equal resistance from the ASICS high abrasion rubber (AHAR) outsole.
Obviously, women's size in footwear is different because of the narrow lasts used, and they're typically lighter. For instance, the women's Gel-Kayano 27 is 3.1 oz lighter than the men's
The main difference here is that the women's version has more foam cushioning in the insole and a steeper heel-to-toe drop at 13 mm instead of the traditional 10 mm.
The men's running shoe also has extra support on the inner side of the arch that you won't get from this model. It's not a con per se since it matches the different biomechanical needs.
As is the case with almost every ASICS running shoe, the insole isn't glued in. This way, you can easily replace it if it wears out.
Key Features:
Customized for women's running biomechanics thanks to the gender-specific Trussic system
Provides adequate arch support for flat feet
Has gel cushioning to soften the heel strikes
The higher heel-toe drop provides shock absorption and protects the Achilles tendon
What People Say:
Some people found that the toe box fabric gives them blisters. So, if you're usually prone to chafing, try using moleskin pads.
Additionally, the women's version of the Gel-Kayano 27 also has short laces, coming at only 52 in.
Although softer foam is a characteristic feature of the ASICS GT-2000, people tend to forget that the line also uses gel cushioning.
However, the arch support you get from the GT-2000 8 is nowhere near that of the Gel-Kayano models.
Yet, it can be a nice transition from neutral footwear to a stability shoe. So, it might be a good fit for people newly diagnosed with plantar fasciitis.
If you compare it to the earlier running shoes in the GT-2000, you'll find it lighter and more flexible, but it still offers enough arch support to relieve foot pain.
It weighs 1 oz less than the men's version of the Gel-Kayano, coming in at 10.1 oz. For the heel-toe drop, it's the same good old 10 mm.
Key Features:
The arch support has a plastic traction guide for hiking trails
Offers a balance between neutral and stability shoes
Has softer heel cushions made of memory foam
High lateral stability than thanks to the Dynamic Duomax and Trussic systems
What People Say:
On the downside, the fit can feel a bit tighter than other GT shoes. Plus, it's not the most long-lasting pair by ASICS.
Moving to the women's version of the GT-2000, you'll find more running shoes that cater to overpronators and people with flat arches.
The GT-7000 7 turns out to be a fan favorite in this line. Like the Gel-Kayano, it has a moisture-wicking Ortholite Sockliner system, which can help with foot blisters.
Since it's designed with gender-specific biomechanics in mind, it also has a steep 11 mm heel-toe drop, like the women's Gel-Kayano.
For the casual runner, there isn't all that much of a difference between the women's GT-2000 8 and this one other than the toe box fitting.
In fact, the GT-2000 7 has better availability with over 15 color options. It's definitely more budget-friendly, too.
The only situation where we might recommend the upgrade to the newer model here is if you have bunions since the GT-20007 has tighter lasts.
If that doesn't work either, you might need to look into New Balance shoes with an extra-wide last.
Key Features:
Steep heel-toe drop relives Achilles tendon pain with flat feet
Gel cushions at the heel and the toebox to absorb stride shocks
Lined with a moisture-wicking Ortholite Sockliner to prevent blisters and infections
The lasting is padded with 45° SpevaFoam to reduce foot pain
What People Say:
Several people hated how short the laces are on this shoe, much like the newer releases of the Gel-Kayano line.
Moreover, the toe box fitting can feel a bit too snug when compared to the GT-2000 8 counterpart.
The Gel-Cumulus shoe line mostly caters to high-speed runners.
If you have low arches and want to use an orthotic insert with the original insole, you might need to go half a size up since the last is very fitting.
However, for people with high arches, this shoe is a good fit with enough arch support to keep away plantar fasciitis injuries.
This running shoe also offers a full-ground contact outsole that's a lot like the one you get with New Balance shoes. This helps pad the heel against the first landing strike.
The ASICS Impact Guidance System (IGS) uses a heel counter and guidance lines to enhance stability and guide the foot to a natural gait.
Key Features:
Design incorporates reflective material for better visibility and safety during night runs
Seamless construction to reduce blisters
Indepentad eyelets that reduce lace tension
Impact Guidance System work to enhance the runner's gait
What People Say:
People who tried earlier Gel-Cumulus shoes might find this model a bit too stiff-healed in comparison.
Yet, after breaking the pair in, it shouldn't be a huge setback, especially since the new model makes up for it with overall better-cushioning performance.
The Gel-Venture line seems to offer a hiking twist on the Gel-Excite traditional running shoes.
The internal heel counter not only helps prevent slipping off, but it's also good for neutralizing underpronation when it works in line with the cavus arch support.
Meanwhile, the external synthetic leather helps support the heel from the outside.
Although it's designed and branded for women, we don't see the steep heel-to-toe drop like other ASICS shoes. Instead, it has the regular 10 mm drop.
However, it's still pretty lightweight, coming at only 8.7 oz. That's impressive for a shoe intended to be used mainly for hiking and trail jogging.
Key Features:
Internal and external heel counter to prevent slippage and heel pain
Trail specific outsole that increases grip on rugged terrains
Removable memory foam Sockliner that provides arch support for cavus feet
Rearfoot gel cushioning to reduce shock from the heel strike
What People Say:
People who used this shoe were surprised to see how it is to clean the synthetic leather parts, which is always a plus in trail footwear.
One thing that you might want to watch out for is the color description since it's not always 100% accurate.
For instance, if you order black, you might end up with something closer to navy blue.
The Gel-Venture 6 MX is yet another pair of shoes that work well with high-arch under pronators with plantar fasciitis injuries.
You'd get the best bang for bucks if you use it as a hiking shoe since it has great traction on hills, thanks to the strong grip of the multi-directional lugs on the outsole.
This is a big step up from previous models in the line, like the Gel-Venture 5, where pebbles would get stuck in the outsole.
Once again, the cushioning performance isn't the best you'd get from an ASICS shoe. Note that it only has gel cushioning in the rearfoot, leaving the forefoot a bit susceptible to shocks.
In fact, the Gel-Venture 5 had softer padding, but this is easily fixed by removing the Sockliner and using an orthotic insert.
Key Features:
Trail specific outsole with reversed lugs to help with hiking traction and stability
Easily replaceable Sockliner
AHAR abrasion-resistant outsole rubber to prevent early wear and tear
Rearfoot gel cushioning
What People Say:
The fabric turns out to not be as breathable as people would expect from a trail-specific shoe, but it can keep your feet warm during cold nights out.
Keep in mind that these shoes are not waterproof, though. Some people had to find out the hard way!
Pronation-wise, the Gel-Contend 6 is a 10 oz neutral shoe with a 10 mm heel-to-toe drop and a stylish design.
All in all, it's lightweight and flexible enough to work for both walking and casual running sessions.
It comes with a cushioned insole that's flexible enough for all-day wear. However, for intense running sessions, you might end up needing an extra insert to add arch support, especially if you have flat feet.
After all, it's not specifically designed with foot pain from plantar fasciitis in mind. Still, at this price range, the cushioning level makes it worth the shot!
Key Features:
Easily removable insole makes shoe customization a breeze
High shock absorbance thanks to the rearfoot gel cushioning system
Handles foot sweat with a moisture-wicking Ortholite Sockliner
Tends to feel more flexible with an AmpliFoam midsole
The heel counter secures nicely without risking a lace bite on the front of your foot
What People Say:
Intense runners often find that the outsole is not as durable as other ASICS shoes. So, maybe keep this pair as a walking shoe.
Final thoughts On The Best ASICS for Plantar Fasciitis
All in all, pairing the best ASICS for plantar fasciitis with the proper warm-up routine is the way to go.
If you have fallen arches (flat feet) and tend to overpronate, you can go for either the Gel-Kayano or the GT-2000 lines.
On the other hand, underpronators might have better luck with the Gel-Nimbus shoes. The Gel-Nimbus 22 is a good value for money with the highest cushioning performance of all ASICS shoes.
Now you can jump right back on track. Just remember to avoid overtraining and let your body recover between runs!