You're done with the race. Your muscles are twitching, your breathing is rapid, and your sense of achievement is growing. Then, a couple of seconds later, your feet start burning, and it feels like you have nails poking into them.
Yes, those little blisters are back again, and you have no choice but to wait for a week or so until they heal on their own.
Or, you can prevent them from growing in the first place. All you need is a solid pair of anti blister socks, and your feet will go out of the race unscathed.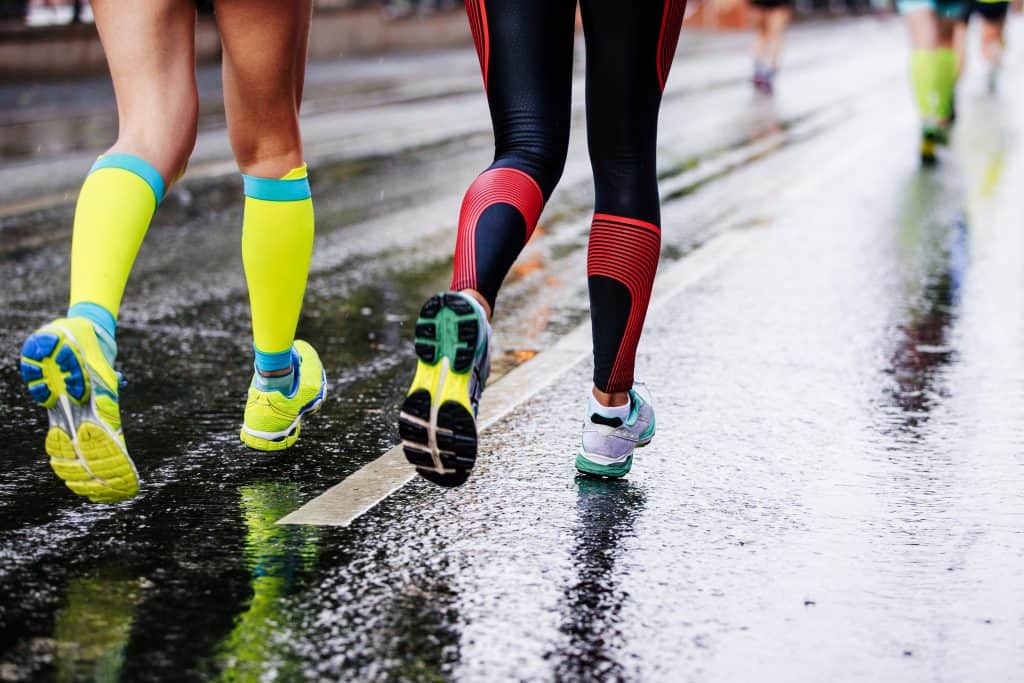 Follow this article for the best anti blister socks on the market!
The Best 10 Anti Blister Socks on the Market
Anti blister socks need to be comfortable, protective, and durable. You don't want your sock tearing off in the middle of the race, and you certainly don't want it compromising your ability to run.
With these considerations in mind, I compiled the best anti blister socks on the market in this list.
If you care about the environment, you'll love how Rockay made this pair. The company uses only 100% recycled materials to make the socks, obtaining them from ocean waste. The main material used is Econyl, which is regenerated from nylon, and it's a highly breathable material.
To add to the convenience, the socks are coated with polygiene, giving them a protective layer. With this layer present, you can wash the socks without affecting their integrity, keeping them for longer.
The less you buy socks, the better for the planet! That's why Rockay made sure this pair is highly durable. If you don't like the socks, you can always use the lifetime guarantee and return them.
Moving on to the anti-blister properties, the socks have multiple ventilation zones. These zones are moisture-wicking, so the sweat doesn't stay inside and causes blisters. There's also thin cushioning to prevent direct contact between your feet and shoe.
Rockay designed these socks to be wearable a few times without washing. They're made using anti-odor technology, allowing you to air-dry the socks after each use instead of washing them. The air-drying does work, so you'll love this option if you don't like washing your socks repeatedly.
Key Features
Machine washable
Anti-odor technology
22 plastic bottles obtained from ocean waste for each pair
Lifetime guarantee
Pros
Eco-friendly manufacturing process
Ventilation zones for breathability
The socks don't need frequent washing
Cons
It may be expensive for some users.
If you don't like cushioned socks, the Elite Light pair from Feetures may be the best option for you. They only have light cushioning to avoid bothering you, yet they do a wonderful job protecting your feet from blisters.
There's a sock dedicated to each foot with R and L letters above the toes to let you know which goes where. The specific footing accounts for a perfect fit for each foot. On top of that, there's no toe seam to avoid irritating your skin.
The socks are designed to provide compression on your arches, providing enough support under the shoes. Besides, the iWick fiber absorbs the moisture to keep your feet dry. That way, sweat doesn't stay on your feet, and blisters have no chance of forming.
There are Lycra power bands on the socks to keep them snug around your feet, and the socks are machine washable.
Key Features
100% nylon material
Machine washable
Left and Right specific footing
Lifetime guarantee
Pros
There's a tab on the back to protect your feet from the shoes' sole
Zone-specific compression for ultimate support
No toe seam to avoid irritating you
Cons
On the expensive side of the market
If your feet tend to sweat a lot, this pair from Tilos will keep you dry and comfortable during your run. They're intended for beach sports, so they're made of breathable polyester that dries in an instant against your skin.
The polyester is recycled, too, made from old plastic bottles. The company claims that it reduces its footprint by 26% for each kilogram of fabric, which is a significant percentage.
The socks have neoprene soles, which is an elastic material common for swimwear and diving suits. It dries exceptionally fast, and it's made of X-Foam that's highly comfortable.
Aside from the advanced materials, the socks are ideal for preventing painful blisters because they don't stay wet. Plus, they contour to your feet like a second skin, making sure you don't suffer friction chafing.
The materials are also hypoallergenic, which means they're suitable for all types of skins.
The stitches on these socks are glued, accounting for seamless rubbing and minimal irritation.
Yet, the best thing about these socks remains their versatility. They're perfect for beach sports, ideal for running, and good for hanging out and relaxing!
Key Features
Neoprene and recycled polyester blend
Ten sizes available
Four-way stretch lycra
Pros
Versatile for multiple sports
Eco-friendly material
They prevent blisters and sunburns
Cons
Some users mentioned the stretch is too much.
The Bering ankle socks for women are an excellent option for anti blister socks. For an affordable price, you'll get six pairs of durable socks. They're designed thoughtfully with padding to keep you comfortable while running.
In addition to that, they're among a few socks on the market that have padding in the sole. It'll prevent blisters because it'll minimize the friction between the material and your skin. Plus, the cushioning will absorb the impact, protecting you from post-race pain.
There are heel tabs on the socks to keep them from slipping through the shoe. Additionally, the material is breathable enough to keep your feet cool and dry as you're running. It's also moisture-wicking, so you don't have to worry about sweating and feeling damp for the rest of the race.
Lastly, these socks have elastic arches to keep them snugly fit around your feet. You can use them for running, yoga, cycling, or any sport you want. They're highly comfortable and breathable, so you can keep wearing them for long.
Key Features
Machine washable
Polyester, spandex, nylon, and rubber blend.
Available in four sizes
Moisture-wicking
Pros
Mesh panels to keep your foot ventilated and dry
Heel tab for easy wearing and taking off
Highly affordable compared to competitors
Cons
Some users mentioned the socks are too thin.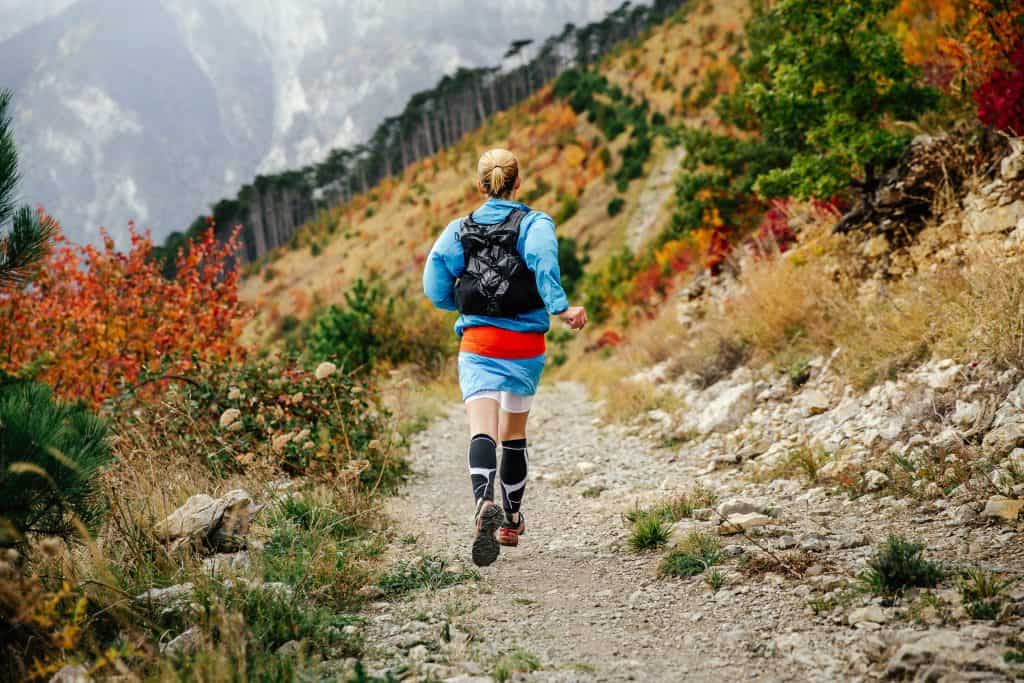 If you're one for tall socks, why not take a look at this pair?
The compression socks from CEP are designed to minimize the chances of blisters. They're fully equipped with cushioning, and their toe closures are seamless. That way, there's no chance for the sock to rub against your skin and cause blisters.
The socks are also designed to provide compression, supposedly reducing muscle soreness after long runs. It's still not clear whether compression socks improve the quality of your running. The matter is controversial, but CEP claims that these socks can increase circulation by up to 40%.
The socks contour to your foot shape like a glove, accounting for comfort and reduced rubbing. Plus, the knit fabric is highly breathable, allowing air to pass and keeping your skin cool to prevent chafing.
As for the materials, the socks are made of polyamide and elastane, both elastic and breathable enough for long runs.
It's worth mentioning that the tall socks may bother you in the summer. They're more fit for winter runs because the extra material will keep your skin hot. However, it's a must-have in every runner's wardrobe.
Key Features
Machine washable
High-tech compression fibers
Seamless toes
Pros
Padded cushioning to minimize rubbing
Suitable for different kinds of sports
Available in a lot of colors
Cons
On the expensive side of the market
If you don't like tall socks, but low-cut ones are too short for you, Zensah offers you this middle-ground option. The socks are tall enough to cover your ankle bone and extend a bit up your calves, but they go nowhere near your knees.
Plus, they're available in some pretty cool shapes and designs. You can go to your next race with watermelons or pineapples peeking from under your running shoe.
If you want to run in style, Zensah is your go-to pair of socks.
Aside from their colorful patterns, the socks are designed to keep your feet protected from blisters. They have seamless toe closures, along with heel padding to minimize rubbing against your skin. Besides, the material is moisture-wicking, so your foot stays dry for the whole run.
The socks are designed with compression technology, so they fit snugly against your feet. That way, they don't slide off and keep chafing your skin.
Lastly, the socks have arch support, providing enough support for people with flat arches and all runners.
Key Features
Arch support
24 color options
Machine washable
Seamless toe
Pros
Colorful patterns and designs
Suitable for cold days
Arch support for people with flat arches
Cons
Some users mentioned the socks could use more compression.
The Paplus socks are comfortable, affordable, and breathable. What more could you ask for?
The socks are made of a spandex and nylon blend, accounting for high breathability and instant dryness. If you step in a puddle, you don't need to worry about staying wet for the rest of your run. The material will dry quickly.
The materials also prevent blisters because they're moisture-wicking, so they absorb the sweat to keep your feet dry. You won't suffer any chafing wearing these socks.
The compression fibers supposedly encourage blood circulation, improving the quality of your run. However, that depends on many other factors, and a pair of socks alone will likely not affect your run significantly.
The seamless toe zone on these socks keeps your toes safe from abrasion. On top of that, Paplus' 3D progressive pressure design keeps your feet safe from injuries. They supposedly keep your foot in the right position so your ankle doesn't twist while you're running. Still, that probably has more to do with your running style.
Key Features
Available In four sizes
Low cut
Machine washable
Recommended by doctors
Pros
Suitable for all kinds of sports
Breathable material to keep your feet dry
Affordable price
Cons
Maybe a bit loose for people with petite ankles
If you prefer cotton socks for running, the Lapulas socks have what you're looking for. They're made of 85% cotton, and because cotton absorbs moisture, there's a 10% polyester and 5% lycra for breathability.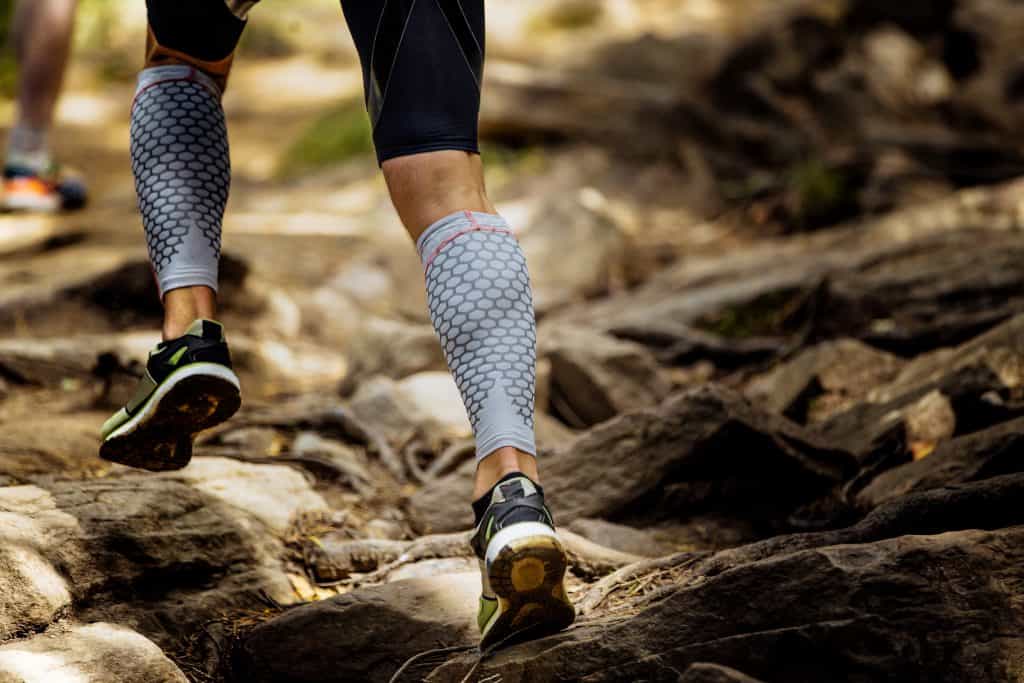 Not only that, but the socks also have mesh panels that allow air to pass and dry your feet. So basically, you'll be getting the benefits of cotton without its disadvantages.
The socks are designed using moisture-wicking technology, so the sweat doesn't stay inside and irritate you. Instead, the socks keep your feet from sweating, and they prevent unpleasant odors.
Aside from breathability and ventilation, the socks are padded to keep your foot comfortable and absorb shocks. If you're a beginner runner, you hopefully won't get blisters as most runners do.
The elastic heel tab may also be a nice addition because it keeps the socks snug against your feet.
Since most runners suffer blisters around their heels, the socks have y-type heels. They supposedly protect your heels from rubbing against the rough shoes. That way, you can run the next day without feeling any pain.
Key Features
Machine washable
Four sized available
Cotton, polyester, and lycra blend
Pros
Mesh panels to keep your foot ventilated
Seamless toe closures to avoid chafing
Affordable compared to competitors
Cons
Cotton isn't as flexible as synthetic materials.
These breathable boot socks from GermaPro are great for multiple outdoor activities. Because they're essentially hiking socks, they're especially good for hiking and running in the cold weather.
Their main material is Germanium-infused polyester that keeps the feet warm. The material is also blended with Coolmax cotton to provide breathability, so your feet stay ventilated and no unpleasant odors find their way to your shoes.
The socks are lightly-cushioned to absorb the impact and keep you comfortable. The padding is also supposed to reduce fatigue after the run, but that mainly depends on the shoes you're wearing.
The ankle tabs on these hiking socks are created with anti-drop technology, so they don't slide off your foot. Not only that, but there's also a pad on the Achilles tendon zone to protect from chafing and rubbing. And to top it off, the 3D-y heels keep your skin protected from rubbing against the shoes.
Key Features
Germanium infused polyester and Coolmax cotton blend
Three sizes available
Moisture-wicking
Pros
Lightweight, breathable material
Advanced design to maximize comfort
Seamless stitching to prevent chafing
Cons
It may not be suitable for the summer.
If you want a pair of anti blister socks for the summer, the Balega socks are what you're looking for. The synthetic blend of materials keeps the moisture at bay, consisting of polyester, nylon, and a small percent of elastane. The three materials are elastic and moisture-wicking, accounting for premium comfort.
Cushioning can be bothersome in the hot weather. That's why Balega created these socks with ultra-thin cushioning. So, your feet are supported, but you don't sweat constantly.
The toe zone in the socks is seamless, so there's no chance of anything irritating your skin. Plus, the sock fits your foot like a second skin, protecting you from slipping on wet surfaces.
The socks feature a microfiber arch band, in addition to a triple-y heel. There's a heel pocket that contours to the shape of your feet, preventing rubbing and making sure the fabric doesn't cause chafing.
Key Features
Polyester, nylon, and elastane fabric
Machine washable
Low volume construction
Microfiber arch band
Pros
The fabric is moisture-wicking for the summer
Heel pocket to prevent chafing
Elastic grip construction to support your foot
Cons
Not suitable for the cold days
Different Types of Socks
There are numerous types of socks on the market, but only a few are suitable for running. Here's a rundown of the most common types you'll find and whether they're suitable for running.
Fabric Socks
We wear fabric socks every day. They're pretty convenient under all kinds of shoes, and they're comfortable, but all that ends when you accidentally step into a puddle of water.
Most fabric socks aren't moisture-wicking, so they don't dry instantly. Instead, they stay wet and keep rubbing against your feet. If it gets too much, the fabric will eventually cause blisters and itchiness.
That's why you should stay away from regular fabrics like cotton and instead aim at performance fabrics. These include nylon, polyester, and merino wool. They'll keep your feet dry, and they're equally comfortable.
Merino wool, particularly, is one of the best materials for running socks, although wool socks for running may seem odd. Merino wool is unlike other types, though. It's so fine and lightweight, so you won't get the feeling that you're wearing wool. You won't have to worry about wearing thick socks.
Fit Socks
Fit socks go around your feet like a second skin, and they protect your feet from slipping. If the sock packs a lot of fabric, it'll keep sliding off your feet as you move, and it won't be comfortable. At the same time, socks that don't have much fabric will keep your feet constricted. That's why fit socks are a perfect balance. A good example of that is the Feetures pair.
Cushioned Socks
Cushioned socks have thin foam padding on the inside to provide thickness between your feet and running shoes. Some people don't prefer them because they want to keep their feet free. Plus, the cushioning may get your feet hot in the summer, which may be uncomfortable.
However, the padding provides support and comfort for long runs. It also minimizes the friction between your feet and the shoes' surface. That way, if the shoes are rough on the inside, your feet will stay safe.
It's worth noting, though, that cushioned socks need to be perfectly fit around your feet. If the socks slide off your feet, the cushioning will rub against your skin and keep you uncomfortable.
Tall Socks
Tall socks are the go-to for a lot of runners because they're comfortable and they keep your ankles clean. However, other than that, they don't provide many benefits. For one, if they get wet, they'll take time to take off and replace at each stop, which increases the duration of your race.
Not to mention, they'll get your skin hot quickly in the summer and in humid conditions. After some time wearing them, you'll feel hot, and you'll want to take them off. That feeling alone can reduce the quality of your race.
What to Consider When Buying Anti Blister Socks
Normally, you wouldn't think twice when choosing socks. In the end, they're pieces of fabric that go around your feet. What could go wrong?
Well, nothing, but if you're buying socks for running, a lot can go wrong. You want to consider their material, fit, and whether they'll cause you blisters.
Here's a roundup of essential features to consider when choosing running socks.
Material
The first rule in buying anti blister socks is staying away from cotton. Any self-respecting runner will tell you this: cotton is only good for winter days in your home. It's no good for sports, and it's definitely a no-no for running.
Cotton absorbs the moisture and keeps it trapped inside, leaving the sweat feeling damp against your skin. If your socks are made of cotton, the sweat will create friction between your feet and the material, eventually leading to chafing and blisters.
When choosing running socks, go for synthetic, breathable materials and stay away from cotton. You'll find various materials that work, including nylon, spandex, elastane, polyester, and even acrylic. If you prefer natural materials, you have no option but merino wool.
It's a soft, breathable material that has moisture-wicking properties, and it's highly durable.
When choosing the material, make sure it's moisture-wicking. If it's not, your feet won't dry while you're running.
Snug Fit
If your socks are smaller than your size, they'll be too tight and may affect your blood circulation. The seams will also keep rubbing against your skin. And if they're larger, they may keep sliding off and cause you to be uncomfortable while running.
That's why finding socks that fit snugly should be your priority while buying. Make sure to check the size chart before buying. If your size constantly changes from one brand to another, you may get two socks in different sizes to decide which one is more comfortable.
Cushioning
Not all runners like to run with cushioned socks. Some people prefer soft socks, convinced that cushioning is only suitable for short runs because it may cause blisters if you wear them for too long.
It's true; if the cushioning isn't well-made, it may cause blisters. That's especially if the socks aren't compressed and keep sliding off your feet as you're running.
That said, cushioning is still comfortable, and it won't cause blisters if you're wearing high-end socks. Even if the socks are average, they won't bother you as long as the temperature isn't hot.
What's important is to get cushioned socks with moisture-wicking material so your legs stay dry inside.
Length
There are a lot of different lengths for running anti blister socks. Here's a roundup of the most common ones, so you know which are the right ones to choose.
No-Show Length
If you don't like your sock to show from under your shoes, no-show socks are the ones for you. Just make sure you choose ones with thick heel tabs, or else they'll slide off the back of your feet. Otherwise, you can make sure the socks are fit for your feet and the material is stretchy.
No-show socks are comfortable for the hot weather because they don't get your skin hot.
Ankle Length
Sometimes, no-show socks will be too short for you, and they may irritate you under the shoes. In this case, you can go for ankle-length ones. They're only slightly taller, and they offer the same advantages of keeping your skin cool in the hot weather.
Crew Length
Crew-length socks are taller than ankle ones, but they're still lower than your knees by a few good inches. Their main advantage is that they show off some cool patterns and colors, but they may cause your skin to get hot in the summer.
Knee Length
Knee-length socks are often the choice of professional runners, and most of them are compression socks. There's a common belief that compression socks prevent muscle soreness after running and improve blood circulation. Although there's not much evidence for these facts, many runners feel more comfortable wearing them.
They're perfect for the winter, but they may irritate you in the summer.
The Final Verdict On The Best Anti Blister Socks
In my opinion, the best anti blister socks on my list are the Rockay Accelerate Anti-Blister Running Socks. They're made of 100% recycled materials, and they're designed not to be washed frequently. Therefore, they significantly reduce your carbon footprint.
If you want a budget-friendly option, take a look at the BERING Women's Performance Socks. They're highly affordable, comfortable, and well-made. I believe they may be the best socks for you.