If you're a runner who suffers from overpronation, continuing to run in the wrong type of footwear can eventually lead to an injury.
In short, you will need a running shoe with plenty of support below your arches and other specialized features that will help prevent your ankles from rolling inwards.
What Is Overpronation?
​During weight transfer from heel to toe, the lengthening of the arches and natural inward roll of the foot is called pronation.
The ideal gait will have neutral to minimal pronation. The arches will lengthen, but not collapse during weight transfer. It will maintain a solid foundation and alignment during take off.
Overpronation is when the arches will lengthen further, and possibly even collapse under the weight of your body. The foot will lay flatter on the surface and cause the ankle to roll inwards. This begins a chain of misalignment between the feet, lower leg, knee, thighs, and hips.
The opposite of overpronation is underpronation (or supination).​
The image below from Zappos shows the three types of pronation:
Overpronation Injuries
If overpronation is left unchecked, it will eventually lead to overuse injuries.
This is especially true for distance runners, since tens of thousands of steps are taken during a marathon. Each step you take will cause unnatural stress to your muscles and joints due to misalignment from overpronation.
Sports Injury Clinic has neatly summarized the different types of injuries that overpronators may experience:
How Bad Is Your Overpronation?
Overpronation is actually a fairly common occurrence. It is estimated that approximately 50% of the population suffers from overpronation. However, not all people who overpronate will succumb to an injury.
​The critical question is: How severe is your overpronation?
The worse your overpronation, the more likely you will suffer an injury. Now, this is not to say that you won't suffer an injury if you have mild overpronation; it just means that your chances are lower than if you had severe overpronation.​
The severity of your overpronation will also determine what type of shoe will suit you best.
Watch this short video​ from Running Warehouse to learn three ways you can test for overpronation. You could also try their free gait analysis service if you are having trouble figuring it out yourself.
What Kind Of Running Shoes Are Best For Overpronation?
​Below is a screenshot from the Running Warehouse video you just watched: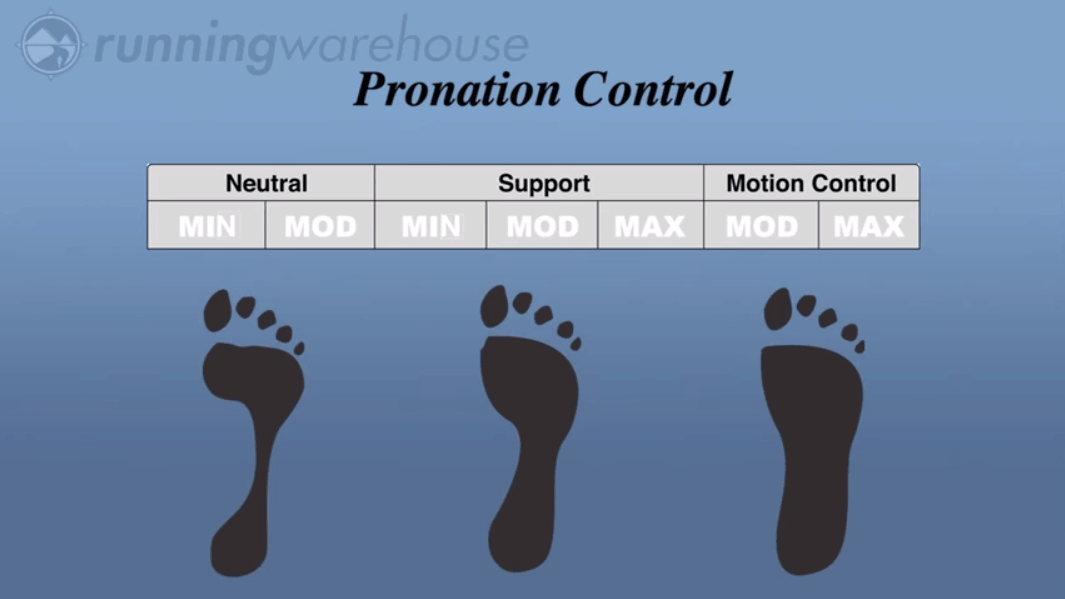 It breaks down the three different types of running shoes and for which foot type they are best for:
Neutral Running Shoes: Best for neutral pronator or runners with high arches
Support/Stability Running Shoes: Best for moderate overpronator
Motion Control Running Shoes: Best for severe overpronator
If you have moderate overpronation, a good support/stability shoe will be best for you. Some manufacturers call them support shoes while others call them stability shoes. Either way, they are designed to provide additional support for your low or flat arches, which will prevent you from overpronating.
​If you have severe overpronation, a good motion control shoe will be best for you. Motion control shoes, like support shoes, provide additional support for low or fallen arches. What's different is that motion control shoes have additional features that further restrict the movement of your foot to prevent overpronation.
With that in mind, let's look at the best running shoes for men and women who overpronate.
Quick Look: Best Running Shoes For Men​
[tcb-script src="tablelabs/t/tepfnjwu.js"][/tcb-script]
Saucony Omni 14
Saucony manages to improve the comfort and performance in the 14th iteration of the Omni, all while reducing the weight of the shoe.
What to Expect
The Saucony Omni is an excellent support shoe designed for moderate overpronators. The shoe is praised for its comfort, smooth and responsive ride and pronation control. At the heart of the shoe is the PowerGrid midsole, which acts like a spring by absorbing and reflecting landing impact for an incredibly smooth and responsive ride.
Key Features​
PowerGrid midsole with GRID technology absorbs impacts and returns energy to the runner for a smooth and responsive ride
Super Rubber Compound Impact Zone provides robust cushioning and a seamless heel-to-toe movement
Dual Density SSL EVA in the midfoot controls overpronation
iBR+ (injection blown rubber) improves cushioning and responsiveness
Open mesh upper allows for maximum breathability
ComfortLite Sockliner reduces pressure on your foot
SAUC-FIT upper enhances medial support for a lock-downed feel
10.3 oz (size 9)
What People Say​
Jon Ober, an editor at Running Shoes Guru, gives his first impression of the shoe: "When I first laced them up and ran in them I was pleasantly surprised. The shoes were very flexible and I was able to rebound fast off the ground thanks to the powergrid system on the sole unit."
He goes on to give his final verdict: "The Saucony Omni 14 is a fresh breath of air to the stability shoe game. It offers a high amount of support but doesn't sacrifice flexibility because of it."
​Click here to read more reviews on Amazon.
ASICS GT 2000 4
ASICS keeps the 4th version of the GT 2000 largely the same as its predecessor.
What to Expect
The GT 2000 is a solid support shoe that's well-suited for the moderate overpronator. It strikes a nice balance between comfort and stability, which makes it a great shoe for beginners who are still trying to figure out what works best for them. Buyers with bigger feet should be aware that the upper is relatively narrow when compared to other shoes in its class.
​Key Features
Forefoot and rearfoot Gel cushioning system improves shock absorption and reduces impact
FluidRide midsole provides the perfect combination of bounce back and cushioning while staying lightweight and durable
I.G.S (Impact Guidance System) technology enhances the natural transition from heel strike to toe-off
Dynamic DuoMax support system improves stability and support and reduces overpronation
Gender-specific cushioning provides optimal comfort
Heel Clutching System uses an external heel counter to secure the rearfoot
10.8 oz (size 9)
What People Are Saying
On the ASICS product page, a longtime fan attributes his injury-free running streak to the ASICS GT 2000: "I have been running on the GT-2000 for 5 years. The last pair I had I ran about 450-500 miles in. In the 5 years I have never sustained an injury from running. Great shoe and I've never had any problems with them. I raced in them a lot during the XC seasons and they worked pretty well. I will stick with this shoe for many years to come."
Click here to read what other buyers have to say.
Brooks Beast 14
When Brooks created the Beast, they had only one thing in mind: create the best motion control shoe in the world.
What to Expect
The Brooks Beast is a premium motion control shoe designed for severe overpronators. It is consistently rated as one of the top motion control shoes on the market today. It excels in providing arch support and comfort: two key features that overpronators need to run long distances.
Key Features​
BioMoGo DNA midsole dynamically adapts to your foot with every step
Full-length DNA cushioning gel creates dynamic support that adapts to every runner
Progressive Diagonal Rollbar runs from the heel to the forefoot and works to guide the foot from overpronating back to a neutral position
Tuned Density Midsole allows for custom support that matches the runner's gender and weight
DRB Accel in the midfoot adds arch support and torsional rigidity
Flextra rubber in the forefoot provides custom flexibility depending on the runner's gender and weight
Element Mesh upper allows for maximum breathability and moisture wicking cabilities
MC Pod Configuation prepares the foot for an efficient heel-to-toe transition
13.9 oz (size 9)
What People Are Saying
On the Brooks product page, Steve explains why he always returns to the Beast: "I try different brands all the time and always come back to the Beast. This shoe has been my go to for close to 15 years. Other shoes hurt my back, hips or legs but not the beast. First used after having plantar fasciitis and other brands don't provide what is needed for me. The beast has changed over the years but always works for me. I am 6′-2" and 230 LBS and run 15 or so miles a week."​
Click here to read more reviews.
Quick Look: Best Running Shoes For Women
| Shoe Name | Quality | Price Range | Rating |
| --- | --- | --- | --- |
| | A | $$ | |
| | A- | $$ | |
| | A | $ | |
Saucony Guide 9
Saucony created the Swiss Army knife of shoes when they developed the Guide 9.
What to Expect
The Saucony Guide 9 is an incredibly versatile shoe suitable for moderate overpronators. The shoe can be used for walking, training or racing, or they can be worn to the gym or fitness classes. You should seriously consider the Guide 9 if you want a shoe that you can use for more than just running.
Key Features
EVERUN is a topsole that is made of the latest innovative materials and construction techniques to provide incredibly lively and responsive cushioning
FLEXFILM is an external support frame that offers extraordinary strength and support
iBR+ (injection blown rubber) improves cushioning and responsiveness
Medial midfoot post helps reduce overpronation
Tri-Flex outsole boosts ground contact, force distribution, and propulsion
Open mesh upper allows for maximum breathability
ComfortLite Sockliner reduces pressure on your foot
9.9 oz (size 9)
What People Are Saying
​A Zappos review by Audrey B explains, "Love Saucony Guide. I usually run in the Saucony Ride but the most recent version didn't last nearly as long (had to replace them in 3 months instead of usual 6 months). I'm 5'8″ 130lbs, run/walk at least 5 miles 7 days a week. I have RA so I can really feel it in my back & hips if my shoes aren't good. These have great support without being heavy and I have zero pain while wearing them. I wear 9.5 in normal shoes and always go up half a size to a 10 every time I order Saucony and they fit perfectly."
Click here to read more reviews.
Nike Lunarglide 7
Nike creates an out-of-this-world experience with this iteration of the Lunarglide series.
What to Expect
The Nike Lunarglide 7 is a lightweight shoe that's best for mild overpronators. The Lunarlon cushioning gently cradles the foot for the ultimate in comfort. The seamless Flyknit upper and decoupled crash pad adds to the comfort level. These comfort features combined with the lightweight make these shoes an excellent choice for long-distance runs.
Key Features
Lunarlon cushioning system that is 30% lighter than Phylon
Denser medial midsole to combat overpronation
Gender-specific, decoupled crash pad that reduces impact
BRS 1000 carbon rubber outsole
Gender-specific Flex Grooves for increased flexibility
Seamless Flyknit upper for a sock-like fit
External TPU Heel Counter locks in the heel for a stable ride
9.1 oz (size 9)
What People Are Saying
A review by user danic0406 on the Nike product page explains how wearing the Lunarglide 7 cured her pains: "I'm a mild overpronator and started off my Lunarglide experience with the 6's. I had previously been running in Asics but had started noticing some shin/calf pain and made the switch the Nike Lunarglides and within a couple runs the pain was gone. I've upped my miles and days per week recently as I'm training for the Bolder Boulder and so purchased these 7's so that I could alternate and these are even better than the 6's!! Took them out on a 4 mile yesterday straight out of the box and had my best time yet, no break in time needed!! Difference between the 6's – lighter, slightly wider toe box, increased ventilation with the fly knit."
Click here to read more reviews.
ASICS Gel Foundation 12
The Gel Foundation from ASICS is a premium shoe without a premium price tag.
What to Expect
​The Gel Foundation 12 is an exceptional motion control shoe for moderate to severe overpronators. ASICS's proprietary Gel cushioning system delivers an incredibly comfortable ride. Dues to these comfort features, however, the shoe is on the heavier end of the scale.
Key Features
Forefoot and rearfoot Gel cushioning system improves shock absorption and reduces impact
SPEVA midsole material provides bounce back with minimal midsole breakdown
Guidance Line Midsole technology improves gait efficiency
I.G.S (Impact Guidance System) technology enhances the natural transition from heel strike to toe-off
Dynamic DuoMax support system improves stability and support and reduces overpronation
Seamless construction reduces foot irritation
Maximum support last is deeper through the midfoot to forefoot to accommodate bigger feet or runners with orthotics
12.4 oz (size 9)
What People Are Saying​
User Flatfoot on a Road Runner Sports review loves the shoe, but gives a warning about sizing: "I love this shoe. I have flat feet and extreme over pronation and by putting my orthotics in these I feel like I can run forever. But you do not need to order a half size up! I wish y'all would take that off there. [Twice] now I ordered up (I guess I shouldn't blame you for the 2nd time, but I believe you!) and have had to return/reorder them."​
Click here to read even more reviews.
Final Thoughts
As an overpronator, finding the right shoe is truly the key to staying injury-free.
There are countless stories of runners who repeatedly get injured until they finally find the right pair for them. What works for one person, however, may not work for another.
With that said, we hope that sharing this list of the top rated shoes for overpronators will have you heading in the right direction.