Indoor running is one of the most popular forms of exercise to keep your body in shape, especially for those who are working from home.
The best way to customize your running workout and improve your speed and endurance is by using an electric treadmill.
Although motorized treadmills are usually pricey and can cost you up to thousands of bucks, some options are fairly affordable while providing decent performance.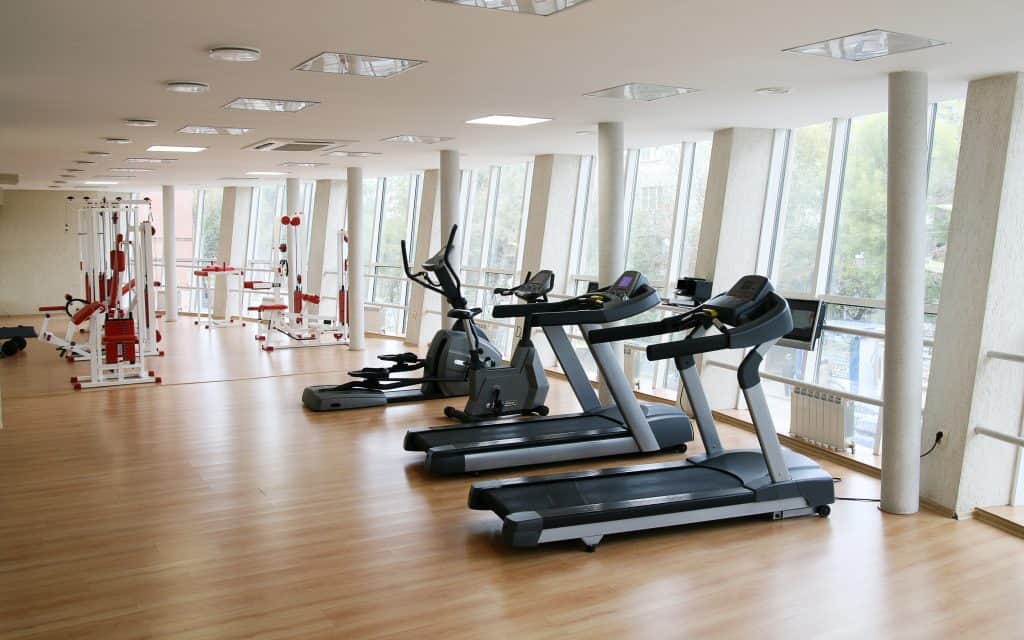 If you're looking for the best electric treadmill under $300, you're in for a treat! Today, we'll take a closer look at some of the best options that the market has to offer as well as a brief guide with everything you need to know before buying one!
Things to Keep in Mind While Buying an Electric Treadmill
Even if you're buying a budget treadmill, it's still going to cost you a hefty sum, so you must make sure that you're investing in the right option for your needs.
For that reason, before diving into the juicy details of the most popular and highest rated options out there, here's a quick look at some of the aspects that you should help you make the right choice:
Type of Treadmill
Not all electric treadmills are created equal, as they come in different types depending on their design and how they're used.
Of course, the two major types of treadmills are the electric and the manual treadmill. But even within the electric treadmill, there are some other subtypes that you might want to consider.
The first and most popular type of electric treadmill is the standard foldable treadmill. This one uses a safety pin that allows you to fold the treadmill vertically to save space when the treadmill is not in use.
On the other hand, another popular form of electric treadmills is the under desk treadmill. Unlike the foldable option, this one lacks a vertical handrail as well as a display screen. This makes it much more portable and easier to store under furniture when not in use.
However, the main disadvantage of the under desk treadmill is that it's usually less powerful, and therefore, is mostly used for walking or light jogging.
Speed Range and Motor Power
One of the main aspects that you need to consider while choosing a treadmill is the speed range of the machine.
The speed of any treadmill is directly related to the power of its motor. Ideally, the power of electric treadmills is measured by Horsepower or "HP".
In the majority of cases, the treadmill will have a motor power that ranges from 1.5 HP and up to 3.5 or 4.0 HP. The higher the number, the more powerful and higher the maximum speeds the treadmill can reach.
In the case of a $300 electric treadmill, most motors will come at a range of 1.5 to 2.5 HP, which is good enough to provide a speed range of 0.5 mph and up to 10 mph.
However, a maximum speed of 10 mph is only ideal for sprinters and those who like a little challenge.
Yet, a top speed of about 6 to 7.5 mph is good enough for those who also want an alternative to running outdoors.
A good electric treadmill will also allow you to control the speed by small increments, such as 0.1 mph increase or decrease per click. This allows you to personalize your running speed exactly to the level you're comfortable with.
Weight Capacity
Another aspect that is also directly correlated with the power of the motor is the weight capacity. The weight capacity is basically the maximum overall weight that the treadmill is capable of supporting.
For that reason, the more horsepower that the electric treadmill can support, the heavier the person running on it can be.
In most cases, the treadmill will have a weight capacity that ranges from as low as 220 lbs and all the way up to 350 or 400 lbs.
However, in the case of under $300 electric treadmills, a few can support such high weight capacities. Instead, the majority of them will focus on providing various features while supporting average human weights, ranging from 220 lbs to 300 lbs.
In addition to the motor power, the frame of the running machine will also have a lot to do with the maximum weight.
Therefore, the higher the weight limit, the bulkier and heavier the treadmill will be, which isn't ideal for $300 treadmills that are mostly used in apartments, small houses, and limited size home gyms.
While choosing a suitable treadmill, you have to make sure that the treadmill can support at least 10% to 15% more weight than your body weight for maximum performance.
In other words, if you weigh 200 lbs, you'll need to get a treadmill that has a maximum weight capacity of about 220 to 230 lbs.
Presets and Workout Programs
The intuitiveness of the treadmill comes from the variety of features it offers. One of the valuable features for those who like a challenge is the programs and presets that come with the machine.
These modes adjust and change the speed of the treadmill automatically in order to maximize your performance, whether you want to strengthen your legs, improve your cardio or increase your fat burning rate.
In addition to regular presets and programs that come with the treadmill, some of them are also compatible with online coaching programs, such as iFIT.
These options are ideal for those who get bored from running indoors and would appreciate some immersion and encouragement.
Size and Dimensions
The size of the treadmill is one of the major factors that you have to keep in mind while buying one because, in most cases, you're going to use the machine indoors, so you're bound by the space available in your house.
Additionally, even if you're getting a compact folding treadmill, you should make sure that it's large enough to accommodate your movement without restricting your body.
The size of the belt is also relevant to the comfort on the electric treadmill because the longer and wider the belt, the easier it'll be for you to run.
Ideally, a good treadmill will have a running belt with a length of about 40 to 55 inches with a width of about 18 to 25 inches.
Incline
Some treadmills come with the option to adjust the incline of the running belt. This allows you to optimize the slope at which the belt is tilted, so that you're climbing upwards while running.
Adding a bit of incline to your run has many benefits depending on the angle used. A low level of inclination is good for relieving the stress that running puts on the joints.
Increasing the level of incline puts more pressure on your lower body muscles, such as the glutes and the quads.
A good motorized treadmill will offer adjustable levels of incline, although this incline can either be manual or motorized.
However, electric adjustment of incline is more common in pricier options, such as the Sole F 80, Sunny Health, and the NordicTrack T Series.
Foldability and Storage
Although most treadmills on the market are foldable, the level of foldability and storage can vary among different models.
For example, some options are space saving treadmills that will fold all the way, giving minimum dimensions that can be stored in a lot of places.
On the flip side, some foldable options, not necessarily cheap treadmills, would still have a bulky appearance even when they're folded.
The choice here depends on the dedicated storage area and whether it's hidden out of sight or not.
Ease of Transportation
Of course, a treadmill that weighs around 50 to 70 lbs would be much easier to move around than other options that weigh 120 lbs or more.
However, the overall weight of the treadmill alone isn't a marker for its ease of transportation and portability, as moving around a bulky 50 lb machine would still be an exhausting task.
Luckily, many electric treadmill manufacturers solved this problem by attaching transportation wheels to the machine to make it easy to move around.
Comfort and Belt Cushioning
Running is a healthy workout but it can be a bit stressful on the joints, especially the knees, leading to a condition known as "runner's knee".
To reduce the impact of the running workout, many electric treadmill brands make their running belt with ample cushioning that reduces the stress on ankle and knee joints.
Make sure that you check the belt cushioning of the machine and opt for the options that offer multi-layer belts, such as 5 or 7 layer belts.
Ease of Assembly
Depending on the manufacturer and the model, the assembly process may vary significantly. And naturally, some models will be easier to put together than others.
If you don't have any experience with electric treadmills or DIY skills, you should opt for the expert assembly option where a professional comes to put the whole thing together.
Luckily, some treadmills, especially under desk ones, come pre-assembled, which makes them great for beginners
Extra Features
In addition to the critical aspects that affect the quality of your electric treadmill, you should also consider some of the extra features that increase the value of the treadmill. These features include:
Bluetooth connectivity
Built-in speakers
LCD or LED screen
Remote controls
Emergency stop
Electric Treadmill Under $300: Top 9 Options Available on the Market
Now that you know more about electric treadmills and how to pick the right one for your needs, it's time to put this knowledge into action and choose the ideal treadmill for you.
In the following section, we've put together a brief treadmill review list of the best options available on the market under the $300 mark. Let's check them out and see what they've got to offer:
The Weslo Cadence G 5.9i is one of the most popular treadmills at this price range. This budget treadmill is ideal for those who are looking for an overall excellent option, as it comes with tons of features in addition to a free 1 month subscription to iFIT membership.
Top Features
Features a 2.25 HP motor and drive system
Can support up to 275 lbs, so it's ideal for different family members
Has a top speed that reaches up to 10 mph
Large LCD screen to track your workout stats
Adjustable 2 position incline
Cushioned 16 x 50 inch belt, which is wide enough to accommodate various running styles
Equipped with a 1 year warranty on the motor and 3 month warranty on parts and labor
Equipped with Bluetooth features and can be connected to mobile phones
Foldable treadmill that saves a lot of space when not in use
What People Say
Users really enjoyed the functionality and power of the folding electric treadmill. They also noted that the machine is a little tricky to put together, which is why a lot of them recommend opting for the expert assembly option.
If you're in the market for an electric compact treadmill that doesn't have a bulky body even when it's unfolded, you should consider this minimalist option for Aceshin.
The treadmill has a simple yet functional design and comes in a wide range of colors. It's also one of the most affordable treadmill options out there that is both motorized and has a decent workout program.
Top Features
Remarkably compact design that doesn't take up a huge space
Comes with 112 workout modes built into the system
The LCD screen reads out heart rate in addition to several running stats
40.95 x 14.04 inches running belt with limited cushioning
A low-noise, 1.5 HP motor with a speed range of 0.5 to 6 mph
Auto-stop function for safety
Supports up to 220 lbs
Lightweight and highly portable construction
What People Say
Many buyers mentioned that this is the best compact treadmill they've ever used. They also noted that despite being a cheap treadmill, it works quite well and offers a variety of extra features that makes it a great investment!
This one is the best treadmill for those who want a medium sized treadmill that isn't too bulky or too compact.
Despite that, the exercise machine comes with a brilliant combination of features that makes it an excellent bang for the buck, such as easy storage, durable construction, and an excellent warranty policy!
Top Features
An excellent choice for runners shorter than 5 ft and 4 inches (162 cm)
Features more than 15 treadmill workout programs and 3 modes
Has a maximum speed of about 10 mph
39.4 x 15.4 inch running belt with ample cushioning
Supports runners up to 285 lbs in weight
Features heart rate sensors to keep track of your aerobic exercise
Equipped with non skid feet, so you can use them on smooth non-carpeted surfaces
Comes with a lifetime warranty
What People Say
The electric treadmill is built specifically to suit shorter runners who don't need a huge running surface, and many runners praise this model for being an excellent choice for such a purpose.
SHAREWIN's electric folding treadmill is an excellent addition to home gyms. The machine has a remarkable build quality that is characterized by sturdiness and ease of use.
If you're looking for the best cheap treadmill that offers an easy manual incline, you should consider this one!
Top Features
Features an iPad/tablet holder for immersive exercising
Durable construction that stands the test of time and heavy use
Equipped with both safety key and emergency stop for additionally security
Features a heart rate monitor
Low noise 2.0 HP motor with a speed range of 0.5 to 6.5 mph
Has a medium sized LCD screen to track all your workout achievements
Manual incline controls by 1.5, 3, and 4 degrees
Allow you to adjust the treadmill speed from handrails
What People Say
A lot of users who tried out the SHARWIN treadmill highly recommended it. Users mainly praised the treadmill's durability and ease of assembly, so you don't have to opt for the expert assembly for this one if you have some decent DIY skills.
If you're tired of bulky folding treadmills and you need an under desk treadmill that you can enjoy a quick workout session while working, this one will get the job done!
Unlike many under desk treadmills that are only designed for walking, the Beachey treadmill can be raised to support jogging as well!
Top Features
Allows you to lower the handrails and turn the treadmill into a completely flat one
Has a maximum speed of about 7.5 mph, which is pretty high for an under desk option
Powerful 2.25 HP motor despite being relatively quiet
7-layer cushioning system that is easy on the joints
Spacious running area
Can be operated via a remote control
Doesn't require assembly and comes with a 1 year warranty
Can't be paired with your phone via Bluetooth to play music
What People Say
Many users were extremely satisfied with the purchase of this compact treadmill because of how inexpensive and ridiculously spaceefficient it is.
Since the treadmill doesn't require folding or storing away, many runners believe that this design encourages them not only to run more, but to be productive at work!
Next up, we have one of the most attractive looking options at such a price range. The REDLIRO fitness electric treadmill is a vertically folding machine that can be used for both walking and running.
Top Features
Available in impressive colors that makes the treadmill unique
Features multiple presets and settings for running workouts
Clear display screens for stats monitoring
2 large cup holders that can also be used to keep your performance cookies and snack bars
The vertical folding saves up a lot of space
A horizontal bar for hanging towels
Multilayered running surface for protection and sound dampening
Supports a maximum speed of about 6 mph and a maximum weight limit of 200 lbs
What People Say
Of course, the unique design and colors of the treadmill are among the most common positive remarks about the treadmill.
However, users also praised the customer service and how they were quick to help them when there is an issue with the treadmills.
This one is fairly similar to the Sunny Health SF-T7632 treadmill, except that it's a lot cheaper and features a wider running belt.
Like the Sunny Health treadmill, the FYC treadmill folds all the way, which is ideal for apartments and small home gyms where you don't have much space.
Besides compactness, the treadmill also stands out for multiple assets, here's a quick look at them:
Top Features
The surface is water resistant, so you don't have to worry about excess sweat dripping on the belt
The running surface is equipped with several layers for comfort, including a sound dampening one for workouts in the early morning
Large surface for running when compared to other highly foldable treadmills
Equipped with a 1.5 HP motor that offers a speed that ranges from 0.5 to 6.5 mph
Can support up to 220 lbs
LCD screen with a smartphone/tablet holder for entertainment and motivation while running
What People Say
A lot of users enjoyed using the compact device, especially those who have limited spaces and couldn't afford expensive options that can fold all the way.
A few users also noted that the treadmill may feel a little wobbly when you're not holding the handrail, so it's a better option for those who like to jog or walk on the treadmill instead of running.
The Merax Treadmill is one of the easiest treadmills on the market to put together, and just because it comes at a fraction of what other popular treadmills cost, doesn't mean it's a bad one.
In fact, this one offers a remarkable set of features and specifications that makes it a remarkably worthy investment. Let's check some of its amazing features:
Top Features
2.5 HP motor that supports a speed range of 0.5 to 7.5 mph
Features a 12 preset workout program to challenge yourself
Clear LED screen for easy tracking of your workout stats
Built-in speakers for playing music while running using AUX port along with a phone holder
Durable frame that supports up to 300 lbs
Easy incline adjustment
What People Say
In addition to praising the product quality and how well-made the treadmill is, the users were also satisfied by the quality of the after-sale services of Merax, which added a layer of security to their purchase.
Last but not least, if you're on an extremely tight budget and you'd appreciate every dollar saved while getting a functional and reliable folding treadmill in your home, this one should do the trick!
While this treadmill isn't a high-end product like Nordictrack T Series, Echelon Stride, or Proform CST, it's still a decent option that works exactly how you would expect a simple electric treadmill to function!
Top Features
Supports up to 220 lbs
Has a speed range of 0 to 6 mph
Non skid strip for security between runs
Easy transportation wheels for portability
LED monitor to track your stats
Dual speakers to play your music while running
12 workout programs
2 pin locking system for secure storage
What People Say
As one of the cheapest treadmills on the market, many buyers were skeptical about the performance of the machine.
However, after several weeks of trial, many users were surprised by how well made and durable this electric treadmill turned out to be, especially when it comes to portability and safety.
Final Verdict On The Best Electric Treadmill Under $300
With that said, our guide for the best electric treadmill under $300 comes to an end. We hope that we've provided you with all the information needed to make up your mind and choose the ideal option for your needs!
If you're looking for an overall great option that provides you with a wide range of features in addition to durable construction and excellent performance, you should consider the Weslo Cadence G 5.9i Folding Treadmill.
Not only does it reach a maximum speed of 10 mph and offers several workout programs, but it also comes compatible with iFIT online coaching programs and even comes with a bonus 30 day subscription free of charge! However, if you're on a very strict budget, or you're looking for a cheaper treadmill that can get the job done, you might want to go for the ZELUS Folding Treadmill for Home Gym. This budget friendly pick is fairly durable and packed with safety feat