Ask any runner what their most important running gear is, and they'll tell you it's their footwear. They won't even have to pause to think about it. That's how critical running shoes are to any type of runner.
Now, let's say you suffer from Achilles tendonitis. That makes finding the perfect pair even more crucial.
You need to look for shoes that have ideal ankle support, a high heel-to-toe drop, and a lot of flex. If you pick the wrong type of shoes, you risk making the problem much worse. You also risk other types of injuries, like plantar fasciitis, sprains, or calluses.
We know the market is flooded with great options, and it can be challenging to find shoes that best suit you. So, in this article, we're going to review the best running shoes for Achilles tendonitis. We also added a buying guide, so you'll know exactly what to look for and help prevent re-aggravating your injury.
Let's get started.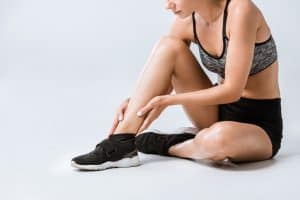 What Is Achilles Tendonitis?
Achilles tendonitis is pretty common among most runners. All that heavy pounding on your feet can take its toll after a while.
This ailment affects the piece of tissue that connects the heel bone to the calf muscle in your lower leg, known as your Achilles heel. As a runner, if you don't take the time to properly do warm-ups before running and cool down afterward, this tissue becomes inflamed.
This inflammation is what's called Achilles tendonitis. It can be quite painful and will require you to rest for a few weeks and take some time off from running.
Types of Achilles Tendonitis
There are two main types of Achilles tendonitis. Each one affects a different part of the tendon.
Take a look.
Insertional Achilles Tendonitis
Insertional Achilles tendonitis is when the lower part of the tendon becomes inflamed. This is the area that directly connects the calf muscle with the heel.
Pain from this type of tendonitis stems at the back of the heel. You may notice it gets worse if your running shoes tend to rub against this area, increasing soreness and irritating the tendon even more.
Non-Insertional Achilles Tendonitis
Non-insertional Achilles tendonitis is sometimes referred to as mid-substance Achilles tendonitis. It's a bit deeper than the previous type because it affects the actual fibers that run through the middle section of the Achilles tendon.
You can feel the pain higher up on the tendon, as well as in the heel. Some people feel a bump when they run their hand over the tendon, which can be sensitive to the touch.
This type of tendonitis is also impacted by what shoes you wear. Avoid footwear that rubs against the swollen area or anything that tightly hugs the heel.
Causes of Achilles Tendonitis
The top reason why runners develop Achilles tendonitis is because of overexertion. They tire out their tendons to the point of exhaustion, which leads to inflammation.
The second leading cause of this ailment is the failure to stretch out correctly before and after running other high-intensity workouts. Warm-ups are essential because they get your body ready for the intense physical labor it's about to go through.
The final major cause of Achilles tendonitis is wearing ill-fitting shoes. Shoes that are too tight, too high, or don't offer the correct type of foot support can all result in the onset of Achilles pain.
It's worth mentioning that Achilles tendonitis doesn't only affect runners. It may also affect those who play any type of sport that requires fast reflexes and quick changes in direction. Some of these sports include tennis, basketball, handball, and racquetball.
Symptoms of Achilles Tendonitis
The symptoms of Achilles tendonitis vary from one person to the next. Yet, on average, the symptoms include feeling your calf muscle tighten up. You may also experience discomfort in the back of your feet, above the heels.
Some people may find that the skin around their Achilles tendon is warm to the touch. Others feel that their range of movement is restricted or limited due to their inflamed tendon.
Here are a few other symptoms to watch out for:
Pain behind the heel
Stiffness or tenderness in the calf muscle
Swelling around the ankle area
Cracking sound when the ankle moves
Limited flexibility
Achilles Tendonitis Treatment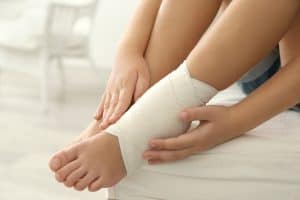 Below are some of the best treatment methods for relieving tendonitis pain and soreness.
Take a Break
The best way to quickly and effectively treat tendonitis is through rest. Take a break from running or any other type of high-intensity training that puts strain on the tendon.
Your doctor may also prescribe anti-inflammatory drugs, such as ibuprofen or aspirin. They'll help alleviate the pain and reduce the degree of inflammation.
Put Ice on Your Ankle
During that rest period, it's a good idea to put some ice on the area surrounding your Achilles. Experts recommend that you ice the area in 15-minute increments every 4 – 6 hours at the onset of the inflammation. Then, the following day, you can cut back the ice treatments to just two times a day.
Stretch Your Calf Muscles
Another terrific treatment method requires a few simple stretches. With these moves, you can loosen the tendon to boost mobility. They can also strengthen the heel and calf muscles attached to the tendon.
Ask your physician about other kinds of physical therapy techniques that help treat your inflamed tendon.
Wear an Ankle Brace
Ankle braces are effective at providing short-term pain relief. To make the most of these braces, it's best if you use them in conjunction with the other treatment methods listed here.
Start Slow
Once your tendon has healed, and your physician has cleared you to start exercising again, it's important to take it slow. Begin with short walks on flat, smooth paved roads before venturing out on hilly terrains.
You'll probably be itching to get out and hit the trails fast. Though, playing it safe will give your body time to transition back into running bit by bit.
How to Prevent Achilles Tendonitis
Here are some things you can do to avoid suffering through recurring Achilles pain.
Strengthen Calf Muscles
There are multiple exercises that can help strengthen the calf muscle and the Achilles tendon. This boosts their ability to absorb more force as you repeatedly hit the pavement, which, in turn, helps prevent further injuries.
Stretch Calf Muscles
Properly warming up before your workouts is another great way to avoid injuries. Start by slowly stretching your calf muscles until you feel a slight pull in the back of your legs. The pull should be bearable and never painful.
Also, avoid bouncing during your stretch. This type of stretching, called ballistic stretching, forces muscles to go past their range of motion. To protect themselves, the muscles tighten up, which may lead to a pulled muscle or an inflamed tendon.
Gradually Increase Intensity
One of the first vital tips any expert trainer will tell you is to gradually increase your training intensity. This includes how far you're running each week, the duration of your runs, and how often you're working out during the week.
They recommend you increase the intensity by as much as 5 – 10 percent weekly. Keep in mind that almost all Achilles tendon injuries occur due to a sudden and abrupt increase in training intensity.
So, take it slow and listen to your body. It'll let you know when it's taking on much more than it can handle.
Vary Workout Routines
High-intensity workouts take a heavy toll on your body, especially if you don't take rest and recovery breaks in between. To avoid excessive stress on your Achilles tendon, you should switch up your routines.
Besides protecting you against tendonitis, it also beats the boredom of the same old workout routine every day. For example, if you start the work with a high-intensity sport, such as running, follow it up with something low-impact.
Some great low-intensity sports include:
Swimming
Yoga
Biking
Walking
Choose Supportive Gear
Last, but certainly not least, the best way to keep your feet protected and avoid any injuries is to choose the right type of workout gear. This means dressing appropriately according to the weather.
Most importantly, choose well-fitting, comfortable running shoes. They should have cushioning in the heels to provide the support your heels and Achilles tendon need to keep them safe and injury-free.
Some people wear ankle braces. They're designed to stabilize the area surrounding the tendon, thus preventing injuries or inflammations.
One of the most effective techniques is to insert heel lifts in your shoes. These orthotics add-ons work to relieve the pressure on the tendon and heel.
Experts recommend you choose lifts that are at least 1 cm high. Anything less will probably not have the desired impact.
What to Look for in the Best Running Shoes for Achilles Tendonitis
In addition to a bit of rest and some stretching, a good pair of running shoes can help you ease back into your running. Here are some factors to consider when choosing the best footwear for your feet.
Ankle Stack Height
We mentioned earlier that one of the ways you can prevent tendonitis is by inserting heel lifts. The reason is that running on higher heels lowers the stress load on the tendon and the heel.
Experts refer to this as ankle stack height or, sometimes, heel drop. The higher the drop, the more pain relief and support you get.
Make sure you look for shoes that give ample support to your ankles. This means the back part of the shoe keeps the foot in place without rubbing against the heel or putting added pressure on the tendon.
The recommended average is a mid-level drop. An ideal range can be anywhere between 6 – 10mm.
Midsoles/Insoles
Midsoles are the layer that lies between your foot and the outsole, or the bottom layer of the shoe. Insoles are sometimes called footbeds or inner soles.
These are basically a midsole that you remove or insert for added comfort. These built-in cushioning pads help absorb as much impact as possible every time your foot strikes the ground when you're running.
With high-quality shoes, these inner trappings can significantly absorb shocks. They help reduce the force that comes when you repeatedly pound the pavement for 30 to 60 minutes. As a result, it protects your ankles, heels, and Achilles tendon, which means no tendonitis.
Not only that, but they can help align your feet into a more natural, comfortable position. Accordingly, they reduce the risk of injuries and inflammation.
Toe Box
Having room for your toes to spread out means better stability and increased control of your strides. So, look for shoes that offer as much room in the toe box as possible.
If your feet don't have the stability they need every time they hit the ground, you risk getting injured. Therefore, a roomy toe box can help prevent heel slippage while providing ideal support during your runs.
Foot Type
Feet come in two basic types: those that pronate and those that supinate. Both are completely normal, and every one of us has varying degrees of each type.
Pronation
Those who pronate tend to have feet arches that cave inward when they walk. Thus, they're more likely to be diagnosed with 'flat arches' and may require foam inserts to provide optimal support.
In addition, feet that have pronation require arch supports. This is to help provide that balance they need when walking and running.
Supination
People with supination, or underpronation, will walk with their feet turned slightly outwards. In some cases, the arch of the foot even increases depending on how wide your steps are or how fast you're going.
To ensure this type of foot is adequately supported, it needs what the experts refer to as a 'neutral shoe.'
This is simply footwear with no inner add-ons or insertions. That said, people who supinate will require a lot of full-length cushioning to fully absorb the shock and protect the lower limbs against injuries.
Flexibility
Many people think of good running shoes as being a solid, rigid entity. The truth is flexible shoes allow for a smoother transition from one end of your foot to the other. Thus, there's a wider range of motion without exerting too much effort.
The 15 Best Running Shoes for Achilles Tendonitis
Choosing the best running shoes for Achilles tendonitis can be tricky. Yet, we managed to round up the top 15 picks on the market to bring you immediate relief from ankle and heel pain, while providing you with a comfortable running experience.
ASICS is a well-known name in the world of sports gear. Their designers know exactly what runners need when it comes to footwear and they've managed to incorporate them all in these shoes.
The first thing we noticed is how light they feel. Plus, the uppers are mesh for breathability and ventilating your feet during your runs.
The cushioning is also top-notch. Everything from the midsoles to the outsoles are bouncy to provide you with maximum comfort and support.
Nevertheless, none of that takes away from the shoe's sturdiness and durability. You can run far and wide with the ASICS Gel Nimbus, and it'll still hold up beautifully.
Pros
Roomy toe box
Upper mesh for added breathability
Trusstic System Technology makes shoes feel light on the feet
FlyteFoam Propel Technology provides extra cushioning and bounce
Cons
Insoles may feel squishy after some time
Arch support may be too much for some runners
These Mizuno shoes cushion your feet for maximum support and comfort. They're light on your feet, yet still manage to hold up extremely well on long runs.
We noticed that our feet and knees weren't achy after wearing these shoes for extended periods of time. Better still, their neutral design offers the perfect amount of arch support.
Moreover, we also like that they act as great shock-absorbers. They helped stabilize our feet to reduce the risk of slippage or injuries.
The outer soles are wear-resistant and anti-slip. Thus, they offer a higher level of durability, as well as balance and steadiness every time your feet hit the ground.
Pros
Removable insoles
Padded collar and tongue
Ideal arch support
Comfortable heel pillow for maximum shock absorption
Cons
Not suitable for extra-wide feet sizes
The toe box may feel a bit stiff for some wearers
The Nike Air Zoom Pegasus has been around for over three decades. Needless to say, it's proved itself a reliable, sturdy running shoe.
The uppers are made of engineered mesh for breathability. There's also an inner liner that covers the entire shoe for added support.
One feature that really impressed us is its double FlyWire. It helps hold your foot in place to ensure a nice, comfy fit.
The area around the heel and ankle is padded and well-cushioned. We should mention that the heel is sloped to reduce the risk of chafing.
Pros
Secure and supportive uppers
Padded heels
Sturdy design is great at handling long runs
FlyWire feature ensures a secure, comfy fit
Cons
Cushioning in the midsoles don't provide adequate ventilation
Traction may falter on wet surfaces
4. Hoka One One Bondi 7: Best for Insertional Achilles Tendonitis
The Hoka One One Bondi 7 is one of the best running shoes for Achilles tendonitis on the market. For one, it has a high heel that reaches up to 37 mm, while the forefoot reaches nearly 33 mm. That gives an offset of the heel-to-toe ratio of about 4 mm.
One feature that took us by surprise is how lightweight these shoes are. They may look bulky and heavy, but they're pretty light compared to other footwear on our list.
We also like the bouncy cushioning that maximizes shock absorbency and reduces injuries.
This comfy design helps enhance your balance when you walk and run for a smoother feel.
The upper is made from engineered mesh for breathability. It runs from the toe box all the way back to the ankle area where it meets the plush and padded ankle collar.
Pros
Removable Ortholite insole
Punched footbed to reduce weight and boost ventilation
Dual-density midsole is well-cushioned
Flexible design enhances the natural movement of your feet
Cons
Outsole isn't as sturdy as other models
Pricey
The Brooks Adrenaline GTS 21 is one of the best running shoes for non-insertional tendonitis on the market. It's suitable for people with medium to low arches, especially for those who are usually inclined to overpronate.
They're able to do that using Brooks' high-quality cushioning system, known as the GuideRails. This system is built along both sides of the shoes to reduce any slippage. As a result, these shoes enhance your gait, while offering ideal stability.
The external heel wraps snugly around your Achilles tendon and heel bone. This provides a stable and secure fit during your runs.
Pros
Designed specifically for non-insertional tendonitis
Offer an ideal heel drop of 12 mm
Anti-slip rubber sole
Features DNA LOFT Crash Pad cushions
Cons
Some users complained of a narrow toe box
Pricey
Low price, comfortable feel, supportive design—what's not to like? The Saucony VersaFoam Cohesion 13 may not have the dazzle that some other models have, but for their budget-friendly, they're one of the most popular top-quality footwear available!
If you've just started running or are on a tight budget, these are the shoes for you. Saucony stands toe-to-toe with some of the biggest names on the market and fairs pretty well.
One feature that stands out is the rubber overlays. They help stabilize your feet to prevent slippage as you're running.
The upper is made with breathable material. Although, the best part about these shoes is its VersaFoam cushioning on the midsole. It starts at 29 mm at the heels and drops to 17 mm at the forefoot for a 12 mm heel drop.
Pros
Budget-friendly price
VersaFoam offers a nice layer of cushioning
Rubber overlay ensures stability
Breathable upper
Cons
The outsole may lose some of its grip on wet surfaces
Narrow forefoot design may not suit users with wide feet
The New Balance Arishi V3 is great for multiple foot ailments, including Achilles tendonitis. The reason behind its popularity is in the cushioning. New Balance designs their footwear with Fresh Foam.
This layer of foam covers the midsole. It's all one density and has no plastic shank in the middle that tends to aggravate some runners. Therefore, what you get is a bouncy, seamless transition from one end of the shoe to the other.
One of our favorite features is the way the foam curves. It's convex in certain areas where your feet need the highest amount of support and stability. Some areas are concave where your feet need a bit less stability.
The upper is made from Fresh Foam. It's a two-way stretchy mesh that provides added support but still keeps the shoes lightweight.
Pros
Fresh Foam Boracay cloth material on the upper
Concave and convex midsole foam offers maximum stability
Smooth transition throughout the entire shoe
Lightweight
Cons
The edges of the inner tongue may feel scratchy when worn without socks
Not slip resistant
The Skechers Go Fast Valor is made with flexible leather for maximum comfort and durability. These shoes also feature a padded, sock-like collar and modern uppers for an appealing, stylish look.
In fact, this is one of Sketchers' signature looks. They know precisely how to combine comfort and support with trendy designs for informal fashion that looks great and feels even better.
We like that they come with kinetic wedges for added support. In addition, the sculpted outsoles are designed to boost the stability of the feet and enhance posture.
Sketchers is a brand that meets all consumer standards. From their high-quality structure to their style-savvy designs, they're one of the best running shoes, especially for those suffering from Achilles tendonitis.
Pros
True to size
Provides ideal support for lower limbs and joints
Durable build
Style-savvy colors and designs
Cons
Thick soles can take time to get used to
Toe box isn't as roomy as other models
The Under Armour Charged Assert 9 is the perfect combination of cushioning and flexibility. It's designed specifically to protect your feet against injuries like Achilles tendonitis.
We like its breathable mesh fabric for optimal airflow to keep your feet well ventilated. An EVA sock liner also stabilizes your feet and prevents slippage.
The insoles are soft and plush. They're great shock absorbers, which help overcome any soreness and pain as you're running.
In addition, the outsoles are solid rubber for maximum durability. Plus, they're non-slip, so you don't have to worry about running on wet surfaces.
Pros
Reliable surface traction
Provides great ankle support
Soft, flexible uppers
Non-slip rubber outsoles
Cons
Some users complained that fabric of the upper rubbed against their toes
Arch support is less than other models on our list
With its low-top heel to its supportive upper, Adidas has done it again with thesock-likeuality running shoes. They're flexible and lightweight, yet that doesn't affect the structural integrity of the shoes in any way.
One great feature is the Continental Rubber outsoles. They're durable, hard-wearing, and provide superb traction on slippery slopes and wet surfaces.
Another nice addition is the Flexible Stretchweb found on the outsole. It offers ideal support and reduces any side-to-side movement.
We also like how Adidas has inserted a stabilizing Torsion Spring in the midsole. This way, you get a nice lift each time your foot hits the ground.
ProsStill
Reliable traction
Midsoles offer an ideal amount of cushioning
Lightweight
Midfoot cage provides a secure fit
Cons
Some users complained of the toe box being too narrow
Pricey
The Reebok Run Fast shoes are designed for a responsive, comfortable feel. Its Floatride Foam technology offers a springy liftoff and enhances balances as you're running.
The first thing that caught our eye is how lightweight these shoes are. Still, they're sturdy enough to handle a wide range of situations.
In addition, we like the rippled rubber material on the outsole. It provides a reliable amount of traction on wet and slippery surfaces.
The breathable mesh uppers offer proper breathability and ventilation. They also give a clean, smooth look to appeal to all styles.
Pros
Made of durable materials
Breathable upper fabric
High drop heel
Lightweight and comfortable build
Cons
Not as bouncy and cushioned as other models
Pricey
Gravity Defyer shoes are designed specifically to provide alignment and full-body biomechanics. They're bouncy and plushy for a comfortable feel and smooth transition.
The insoles can be removed, which makes it easy to custom-fit heel inserts or orthotics. The sole is rocker shaped in the front to help absorb as much of the shock as possible when you run.
We like that they're ideal for wide feet. The toe box is roomy and spacious to improve balance at the front of the shoes.
Another great feature is the VersoShock patented technology. It brings pain relief and alleviates soreness for many types of foot ailments.
Pros
Removable insoles
Great shock absorbers
Suitable for wide feet
Features VersoShock Patented Technology
Cons
Not as long-lasting as other models on our list
May feel heavy on the feet for some users
Available in a wide array of color choices, the KEEZMZ running shoes are all about being trendy, yet well-protected on your runs. They're extremely lightweight and highly adaptive, thanks to their high-quality materials and user-friendly design.
We like that these shoes come with a slip-resistant, MD outsole. Still, they're highly flexible to provide the ideal balance and support.
The upper is breathable and soft to the touch. This means your feet will be super cool and dry, even on the hottest days.
The insoles are removable. That makes it easier to take them and put in your choice of orthotics or inserts that best cater to your feet type.
Pros
Breathable upper mesh
Adaptive and lightweight
Cushioned outsole make for ideal shock absorption
Anti-slip rubber sole
Cons
Midsoles are quite thin
May shrink if you machine wash them
We were hesitant about trying a brand that's not as well-known as the others. However, we were genuinely surprised to discover that they offer a lot of the same support and comfort that the big names offer and a much lower price cost.
One of the first features we noticed right away is the shock-absorbing cushion below the heel. It not only protects the heel against impact but works to reduce shock on the ankles and knees as well.
We also like the double-layer knitted fabric. It feels light and offers a nice amount of ventilation that kept our feet nice and cool.
The bottom soles are anti-skid. They offer the perfect amount of traction, so you don't have to worry about slipping when you're running on a wet or smooth surface.
Pros
Shock absorption cushioning
Removable sock-liner
Anti-skid low-density rubber outer soles
Flexible and adaptive
Cons
Lacks adequate midsole cushioning
Sizes run a bit small
The Mishansha running shoes come in a lot of fun and trendy colors. The designers' aim is for runners to feel good and look amazing!
The knitted fabric on the uppers offers nice ventilation to keep your feet cool and dry. The material is also lightweight, which means you won't be lugging around your feet even on long-distance runs.
One feature that caught our eye is the plushy inner lining. It feels soft on your skin and helps protect your feet against bumps and jolts. Plus, it helps stabilize your feet firmly in the shoe.
In addition, each pair of shoes come with arch support insoles. They work to enhance stability, balance, and comfort. Plus, they do a great job of absorbing shocks as you run.
Pros
Wear-resistant, anti-skid outer soles
Double air cushions in the midsoles protect feet and knees against impact
Arch support insoles provide balance and comfort
Sponger inner lining is soft on the skin
Cons
Sizing chart may be inaccurate
In some cases, threads were showing on the inner seams
Final Thoughts
The best running shoes for Achilles tendonitis vary greatly from one person to the next. Things like foot type, weight, and type of inflammation all come into play when choosing a suitable pair of shoes.
The 15 top picks we reviewed offer support and maximum comfort. They're all designed to alleviate pain and help provide the right type of stability for your ankles. They're a vital important part of finding ways to ease your pain and make sure you don't suffer another injury.
Whether you're a seasoned runner or just love jogging on the weekends, wearing the right type of footwear can make all the difference in the world when it comes to protecting your feet and ankles.
While we like all the choices here, our favorite is the ASICS Gel Nimbus 23. They're comfortable and supportive. Plus, they offer a nice roomy toe box, enhancing balance and reducing the risk of injuries.
If you're looking for something designed for women, go with the Mizuno Wave Rider 25. These shoes give you the stability and protection you need on long runs. They're lightweight yet snug enough to keep your feet in place for maximum support.