We've all heard about marathons and how anyone can enter the 26-mile race. However, just because almost anyone can qualify doesn't mean anyone can win.
It takes years of hard work and practice to master the sport of long-distance running. If you put in the hours, you can match some of the world's best marathon runners.
On that note, let's take a look at the best marathon runners and a little about how they got there.
Top 5 Best Marathon Runners in the World
Many factors come into play when you're nominating the best marathon runners. You have to consider their best time and how many marathons they've finished. So, let's dive straight into our picks for the top 5 best marathon runners in the world.
1. Eliud Kipchoge
Country of origin: Kenya
Date of birth: November 5th, 1984
Height: 5 ft. 6 in.
Weight:115 lbs.
Fastest marathon run: 2:01:39
Coach: Patrick Sang
If you're interested in marathons, then you've most likely already heard of Eliud Kipchoge. We regard Eliud as one of the greatest marathon runners of all time, not just because of his speed, but also his tenacity.
Kipchoge grew up in Kenya. His father passed away when he was a young boy, so his mother raised him and his three siblings.
Growing up, Eliud didn't have any professional running training. However, he used to run about two miles to school every day.
It wasn't until he was 16 that Kipchoge met his future coach, Patrick Sang. Sang was a former Olympic runner, with three silver medals under his belt. He started training Kipchoge in 2001 and coached him through his running career.
In 2003, Kipchoge set a world junior record when he ran the 5000 meters at the Bislett Games in 12:52:61. This record held strong up until 2012 when Hagos Gebrhiwet beat it by about 5 minutes.
Kipchoge went on to win a few more bronze and silver medals. It wasn't until 2015 that he won a gold medal for his next race. In 2015, Kipchoge went to the Berlin Marathon and won. This marathon was challenging because Kipchoge lost his shoes in the middle of the race.
The shoes broke down and the insoles flew out of both shoes at around the 6-mile marker. So, he had to run the rest of the marathon almost barefoot. This led to a few injuries and blisters on Kipchoge's feet. However, he did end up winning the race and setting a new personal best time.
In January 2022, Kipchoge announced that he wanted to run all six Abbott World Marathon Majors. He has already won three of them, and he plans on entering and winning the other three and he is one of the best marathon runners.
2. Dennis Kimetto
Country of origin: Kenya
Date of birth: January 22nd, 1984
Height: 5 ft. 7 in.
Weight: 121 lbs.
Fastest marathon run: 2:02:57
Coach: Self-coached
Dennis Kimetto, one of the best marathon runners, held the world record in the men's marathon right before Eliud Kipchoge. His best time was 2:02:57, about 78 seconds slower than Kipchoge's time. Still, this makes Kimetto one of the fastest runners on our list.
Coming from humble beginnings, Kimetto started out his life in a farming community. He used his daily struggles to push himself and make himself a better runner, all in an effort to achieve greatness so he can help out his family.
Kimetto won his first major race in Nairobi during the 2011 marathon. It was a half marathon, and he won with a time of 1:01:30. However, he didn't stop there. Kimetto ran a few more half marathons, winning most of them before he moved on to full marathons.
In 2012, Kimetto broke the record for the fastest marathon debut in the Berlin Marathon. During that run, he also set the record for the fifth-fastest time ever run at that point in time.
These were far from the only records Kimetto would break. In 2013, he broke two more records at the Tokyo and Chicago Marathons.
Still, he hadn't yet run his fastest marathon. A year later, in 2014, Kimetto ran the Berlin Marathon at 2:02:57. This marked him as the first man to ever finish the Berlin Marathon in under two hours and three minutes.
After that, Kimetto's running career took a few steps back. In 2015, he only participated in the London Marathon and finished third.
Another setback in Kimetto's life came in the form of an injury. He had a stress fracture in his left leg, which left him unable to compete in any marathons.
3. Wilson Kipsang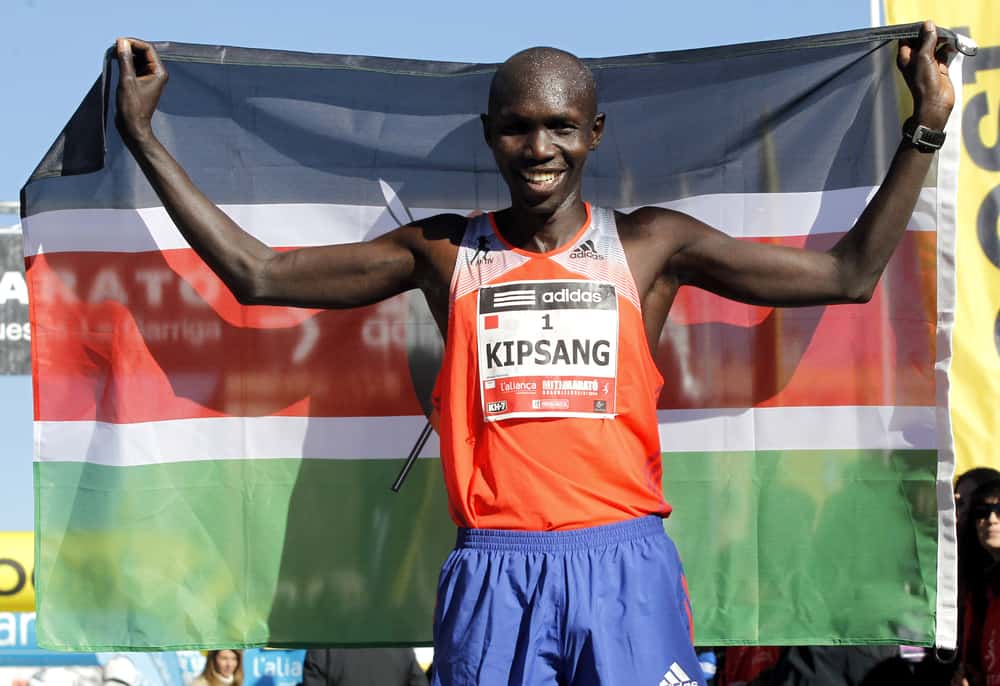 Country of origin: Kenya
Date of birth: March 15th, 1982
Height: 5 ft. 11 in.
Weight: 137 lbs.
Fastest marathon run: 2:03:13
Coach: Self-coached
Wilson Kipsang started competitive running for the Kenya police. Kipsang didn't have any formal training at the time. He would spend his time trying to build up his stamina and increase his speed on his own. As time went on, Kipsang got much better and started competing professionally.
He began his professional career in 2007 when he ranked second in the Tilburg Ten Mile, with a time of 46:27. Kipsang also won the Hem road race the same year and third place in the Kenya Police Force Championships.
In 2008, Kipsang went to World's Best 10K and finished third after Deriba Merga and Silas Kipruto. However, Kipsang didn't let that stop him. He returned to the Tilburg Ten Mile race and won second place, just about two-second behind the winner.
Kipsang made his marathon debut in the 2010 Paris Marathon, finishing third with a time of 2:07:13. Then, during the same year, he ran and won the Frankfurt Marathon with a time of 2:04:57. This made him the eighth-fastest marathoner ever.
After that, Kipsang went on to win many more races and broke a couple of records doing it. In 2017, Kipsang ran the Tokyo Marathon with a time of 2:03:58. He then returned to the Tokyo Marathon the following year to try and reclaim his world record.
However, after running about 9 miles, Kipsang had to drop out of the race because of stomach problems. Still, Kipsang's problems didn't stop there. In 2020, the Athletics Integrity Unit suspended Kipsang because of doping allegations.
4. Mebrahtom Keflezighi
Country: United States of America
Date of birth: May 5th, 1975
Height: 5 ft. 5 in.
Weight: 125 lbs.
Fastest marathon run: 2:08:37
Coach: Bob Larsen
Mebrahtom Keflezighi is originally from Asmara, Eritrea. He moved to the US at the age of 8 with his family.
Being one of 10 children doesn't leave much space for self-expression, but Keflezighi found a way. He found out at a young age that he could run faster than everyone around him.
While he was a student at a Memorial Academy in San Diego, Keflezighi started his running career. He would run at school before he went on to win the 1600 meters CIF California State Championship in 1994.
After high school, Keflezighi went to UCLA. He won many races and even got a few awards for all his efforts on the running team. Then, right before he graduated in 1994, Keflezighi became a citizen of the United States.
In 2009, Keflezighi entered and won the New York City Marathon. He even broke his personal record and finished at 2:09:15. This marked him as the first American citizen to win the New York Marathon since Alberto Salazar in 1982.
His next major marathon win came in 2014. In April, Keflezighi won the Boston Marathon with an official time of 2:08:37. Moreover, since he was almost 39 years old at the time, this made him the oldest winner of the marathon.
However, one of Keflezighi's more memorable moments came later on in his career. In 2016, while running the Summer Olympics Marathon, he suffered stomach problems. This caused him to slip and fall during the race.
Still, he turned the slip into a few push-ups before he got up and finished the race. Eventually, he ended up finishing in 33rd place.
5. Paula Radcliffe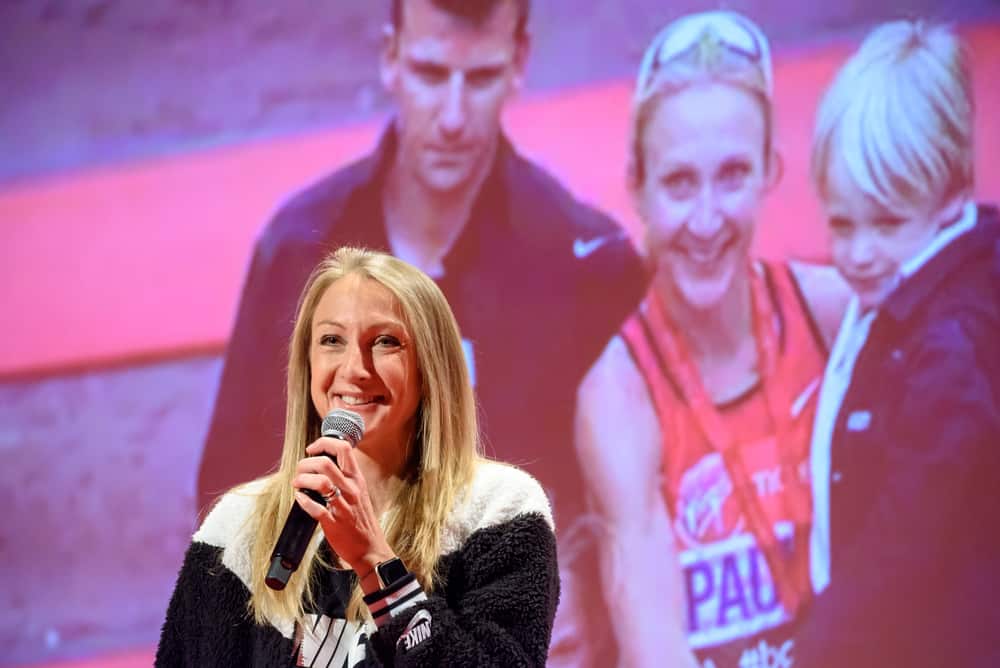 Country of origin: United Kingdom
Date of birth: December 17th, 1973
Height: 5 ft. 8in.
Weight: 119 lbs.
Fastest marathon run: 2:15:25
Coach: Alex Stanton
During her career, Paula Radcliffe one of the best marathon runners, won the London and New York Marathons three times each. She also won the Chicago Marathon and held the title of the fastest woman for about 16 years.
Radcliffe started running at a young age. Her father was an avid marathon runner in his early twenties. So, when Paula's father decided to quit smoking and start running again, she chose to join him. Even though Paula had asthma, she never let it slow her down.
One day, after a rather intense workout session, Paula blacked out and her dad rushed her to the hospital. The doctors diagnosed her with anemia and exercise-induced asthma. After that, the doctors advised her to quit running altogether.
It wasn't until Radcliffe met her future coach that she got back into running. At the age of 12, Radcliffe met Alex Stanton and started training for a running career. Her first official race was in the 1986 English Schools Cross Country Championships.
However, it wasn't until 2002 that Radcliffe started running marathons. Her debut run was the London Marathon, which she won and set a world record with a time of 2:18:55. The record was the second-fastest run in all women's marathon history.
Still, she would go on to break even her record in 2003. Radcliffe ran the London Marathon in 2:15:25. After that, Radcliffe would continue running in marathons until her retirement in 2015.
Wrapping Up
Marathons are the ultimate test of stamina and endurance. They give everyone the opportunity to challenge themselves and others. However, throughout history, there have only been a few truly exceptional marathon runners.
When it comes to the best marathon runners, there are a few people worth mentioning. It's not all about their fastest running time, but also about how long they can stay on top of their game.