As more and more people take up running, the question of where to carry a phone while running becomes more pressing.
There are numerous reasons to bring your phone with you on a run. You can use it to track miles, follow a trail, listen to music, or keep it nearby in case of an emergency. Your phone can also help you stay safe.
The bottom line is that it's essential to have a way to keep your phone on you while running, other than in your hand.
In this article, we lay out all the options for the best way to carry phone while running—and they're all hands-free!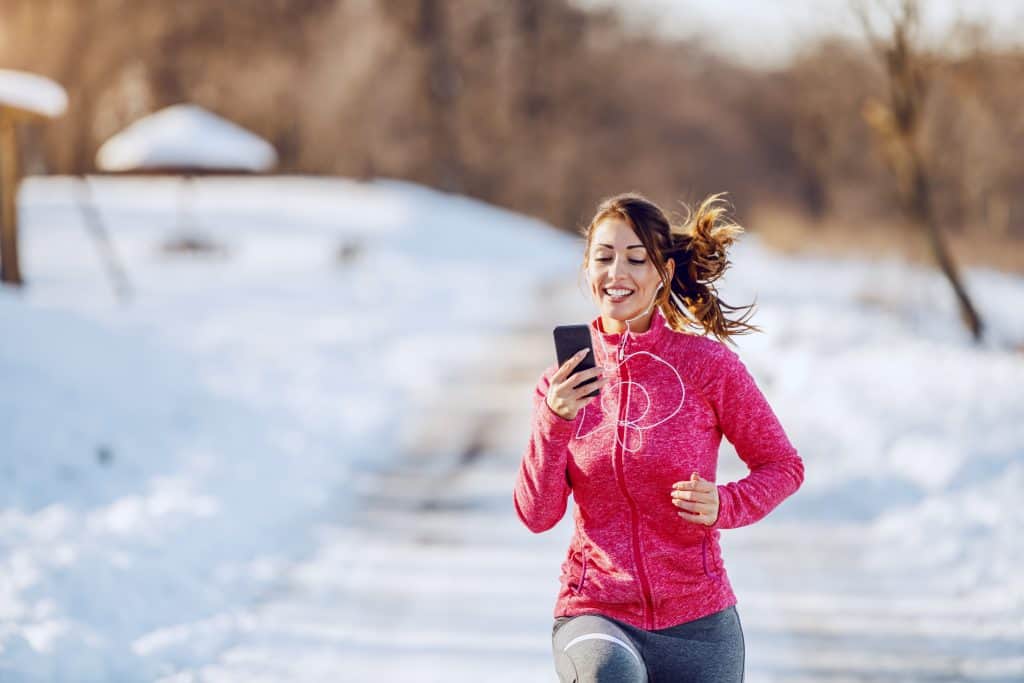 We also go over the factors you should consider to decide which way is the best for you. Finally, we look at the worst ways you can carry your phone while running.
Best Way to Carry Phone While Running 7 Ideas
1. Running Belt
A running belt is also known as a hip running belt or a hydration belt.
Compared to other methods of carrying a phone, a running belt is one of the best ways to carry a phone while running. It evenly distributes the extra weight from your belongings around your waist.
A running belt is a lot like a waist pack. The main difference is that the running belt is designed with the runner's best interest in mind.
Basic running belts are adjustable and made with stretchy materials. Their pockets are usually large enough to hold your phone, keys, and wallet.
One popular running belt among runners is the SPIbelt. This belt is made from stretchable spandex and soft elastic, making it ideal for running without the risk of chafing.
If you position it around your hips properly, the SPIbelt shouldn't bounce nor slip, even during intense running sessions.
Most importantly, the SPIbelt's expandable pocket can fit phones up to 6.5 inches long. It can also carry multiple items at a time, including keys, gels, and credit cards.
That said, running belts are not without flaws. If your belt does not fit properly, it'll bounce while you run, potentially causing chafing around your hips.
What's more, many running belts aren't sweat-proof, so you may need to put your phone in a plastic bag.
2. Armband
Armbands are another popular choice for both new and experienced runners. They're one of the few options that can keep your phone accessible but out of the way while running.
The one main advantage of armbands is that you don't need to take your phone out of the case to use it. Most armbands' screen covers are touchscreen-friendly.
A cult-favorite armband is the TRIBE Water Resistant Cell Phone Armband Case. It's a highly durable armband made from faux leather and a TPU screen cover, both of which are water and sweat-resistant. It also has a fully adjustable, double-loop, elastic strap with a Velcro fastener.
This armband is even more impressive because it includes a key pocket, a headphone cord organizer, and an extra-thick reflective strip.
Some people, though, may find armbands uncomfortable. This usually happens because the armband doesn't fit the runner's arm properly, causing it to bounce, chafe, or slide down the arm.
That's why you should make sure that the armband is securely wrapped around your arm.
3. Sports Bra With a Built-In Back Pocket
It's already difficult to find a comfortable, well-fitting sports bra. Finding one that can carry your phone might seem like a whole other ordeal.
Luckily, this sports bra from QUEENIEKE is probably all you could ever want from a sports bra and then some.
The QUEENIEKE is a breathable, four-way-stretch, double-fabric, high-quality sports bra that's designed for high-impact workouts, including rigorous running. It's also chafe-resistant, moisture-wicking, and quick-drying.
Above all, this sports bra features a racerback panel with a double flap closure to secure your phone in place. You can then thread your headphones through the eyelet and you're ready to go.
So far, there hasn't been a sports bra that can fully protect a phone from sweat. For that reason, we recommend that you put yours in a waterproof case or a plastic ziplock before placing it in your sports bra's pocket.
4. Hydration Vest
Hydration vests are excellent options for long-distance runners who need to carry more than just their phones.
These vests, also known as hydration packs, are made up of multiple compartments that keep all the essentials within arm's reach. They allow runners to carry water, fuel, and gear on them without having to stop somewhere for water or supplies.
Another benefit of hydration vests is that they're securely attached to your body. This prevents discomfort. It also keeps the vest from bouncing excessively while running.
The Nathan Hydration Running Vest is a lightweight, sturdy vest that's made from breathable fabric. It's from a reputable brand that's known for its high-quality products.
This vest is one-size-fits-all chests and bodies. It also has a patented three-way harness for even weight distribution and adjustable straps for maximum comfort and security.
Most of all, the Nathan Hydration Vest has a front zippered smartphone pocket and a water bottle pocket.
Keep in mind that a hydration vest on a short-distance run where you wouldn't bring water can be too cumbersome. Instead, you can use a handheld bottle, such as the Nathan Speedshot Plus.
5. Running Shorts With a Built-In Waist Pocket
If you're going out for a short run where you don't need anything but your phone, carrying any special gear just for your phone might seem like a hassle. It'd be much simpler to put it in your running shorts' pocket.
Most men's running shorts have pockets for their phones and other belongings. Women's running shorts, on the other hand, either have pockets so small they can only carry a single sports gel or don't have pockets at all.
Fortunately, more running clothing brands are getting with the program, like BALEAF. Their high-waist biker shorts are running compression shorts that are made from non-see-through, breathable, and stretchy fabric.
They have two big side pockets and one inner pocket in the waistband. These shorts aren't suitable just for running. They're also suitable for yoga, weightlifting, and almost any other type of exercise.
One perk worth mentioning is that BALEAF's running shorts are size-inclusive. This means that you're guaranteed to find a pair of shorts that fits well.
6. Workout Tank Top With Side Pockets
Workout tank tops with side pockets are a great option if you prefer to keep your phone close by during your run.
This ODODOS Workout Tank Top has a concealed side pocket big enough to carry any item, including your phone. It's made from breathable, stretchy, moisture-wicking fabric. This makes it ideal for moderate exercises as well as intense activities.
That said, tank tops with side pockets have a glaring issue. Most phones may cause the shirts to flop around a bit while running.
Still, your phone is most likely going to fit snugly in these pockets, so you won't have to worry about it flying out of your shirt. Just make sure the phone is in a case or a plastic bag to keep sweat out of it.
7. Running Backpack
Many runners who enjoy going on marathons and trail running may need to bring a few extra items with them. A compact, lightweight running backpack can carry your phone and more.
If you already have a running backpack, put your phone in a similar-sized pocket. This way, you can avoid having your phone bounce around in your backpack, which can be annoying at times.
Important Factors to Consider
There's no need to feel overwhelmed when you're deciding between these seven options. The product you end up choosing depends on your preferences and experience with what works the best for you.
That said, we have a few guidelines that can help you make a quick but wise decision.
How Often You Check Your Phone
For runners who check their phone often, they should make great use of a running belt or an armband. Both products offer you easy access to your phone while running.
However, if you want your phone out of sight, out of mind, then you should go for a sports bra or a pair of shorts with built-in pockets.
Your Running Distance
Most phone holders are useful for short-distance runs, but if you're going on a long run, the running vest is the way to go.
Your Budget
If you're looking for a phone holder on a budget, go for the running belt. Most good-quality running belts are reusable, long-lasting, and extremely affordable.
Where You Shouldn't Put Your Phone While Running
There are other ways to carry your phone that don't require purchasing extra gear.
While these options are pretty much free, they'll almost always result in your phone dropping to the pavement or drowning in sweat.
Here are five places you shouldn't put your phone while running.
In Your Hand
The only advantage of holding your phone while running is that it's easily accessible. Aside from that, your phone is just a distraction that's likely to cause you a hand cramp.
Your Phone May Get Damaged
There's a huge chance that your phone slips out of your hands while you're running. Your hands can get clammy from the sweat, making it harder to have a tight grip on your phone.
In addition, if you stumble or fall, your phone is likely to sustain some damage.
Even if your phone doesn't slip out of your grasp, sweat can get into the phone's exposed parts and cause it to malfunction.
Your Phone May Affect Your Posture
What's more, running with your phone in your hand can create subtle imbalances in your running posture. Your phone adds weight to one side of your body, forcing your arm into an unnatural posture.
Over time, as your posture becomes more unbalanced, the extra weight in one hand can cause problems in the leg, hip, and shoulder muscles.
Having said that, you might be able to get away with carrying your phone in your hand if you're out for a short run on a cool day.
You just have to maintain a firm grip on the phone, and switch it between your hands once in a while. This can help to balance out the effects of the phone's weight.
In Your Sports Bra
It's simply not a good idea to stash your phone in your sports bra. Not only is it going to feel uncomfortable, but the phone can get soaked in sweat pretty quickly.
Some people suggest that you put the phone in a plastic bag. However, the plastic can cause some serious chafing during your run.
The only exception is a sports bra designed specifically with an external phone pocket. Still, these pockets aren't usually sweat-proof, so a longer and hotter run can damage your phone.
These pockets are also often built into the back of the sports bra, making it difficult to reach the phone while you're running.
In Your Shoe or Sock
Your shoe or sock might seem like a good place to put your phone. In reality, it's not possible to run with your phone in your shoe or sock without it breaking.
Running requires over 2,000 steps per mile, so it's almost as if you're putting the phone in a blender. What's more, running with a phone lodged between your foot and your shoe can be uncomfortable.
It's even worse for you and your phone if you're wearing compression socks. The purpose of these socks is to squeeze your leg to increase blood flow. If you put your phone in your sock, you risk adding too much compression to your leg.
In Your Waistband
Some people will tell you that you can just roll over your waistband and tuck your phone in there. The truth is that there's no guarantee that the waistband won't come undone.
In the best-case scenario, your phone will slip inside your running leggings. In other cases, it'll fall to the ground.
In Your Pocket
Many running shorts' pockets aren't designed to securely hold a phone. As you run, your phone will bounce around in your pocket, potentially causing it to fly out and smash onto the pavement.
Even if that doesn't happen, your phone's constant bouncing can chafe your thighs.
Final Thoughts On The Best Way to Carry Phone While Running
You risk ruining your posture and putting yourself in danger if you hold your phone incorrectly while running. What's more, incorrectly carrying your phone may make your run less enjoyable.
Instead, carrying your phone correctly while running can be a subtle change that has far-reaching consequences.
You can carry your phone while running using many convenient and multi-purpose products, such as belts, shorts, sports bras, and packs.
With so many simple and convenient options, there's no reason to head out carrying your phone in your hand.
The best product for you to carry a phone while running is ultimately a matter of personal preference. Whether you choose a running belt or a running vest, these options should allow you to enjoy an injury-free and hassle-free run.