Kids who partake in running or any other physical activity at a young age not only grow up with strong muscles and bones, but also face less risk of developing type 2 diabetes and obesity.
But in a world where staying home and playing video games are the norm, it's often difficult to encourage a youngster to join you in your morning runs. It's also challenging to keep track of their physical activities while you're not around. This is where fitness trackers come into play.
In this article, we've listed five of the best running watches for kids to make their runs a bit more exciting. Let's dive right in!
Best Running Watch for Kids, Factors to Consider
Fitness trackers have come a long way since their inception in 1965. They went from just counting your steps to also tracking your sleep patterns, sending movement reminders, and recording fitness activities among others.
Fitness trackers made specifically for children are a bit different than trackers made for adults. So before you purchase a tracker for your kid, consider these factors:
Milestones and Achievements
Fitness watches made for kids make running fun with the addition of customizable goals, milestones, rewards, mini-games, and even competitions.
These achievements give young kids a reason to gear up and go for a run. They balance fun and productivity—a win-win for you and your child!
Battery Life
Here's the thing: children are forgetful. That's just something we parents have to deal with until they enter their teens. For this reason, it's useful for the smartwatch to have a long battery life so the watch won't easily die even if they forget to charge the watch for a day or two.
As much as possible, search for a watch that holds up for up to 24 hours on a single charge. The longer the battery life, the more reliable the watch.
Otherwise, they're more likely to leave their uncharged watch in their room until you either remind them to charge it before their runs or charge it yourself.
Durability
Active children have lots and lots of energy, and with energy comes unintentional carelessness. At some point, they might break, scratch, or damage their watch while playing.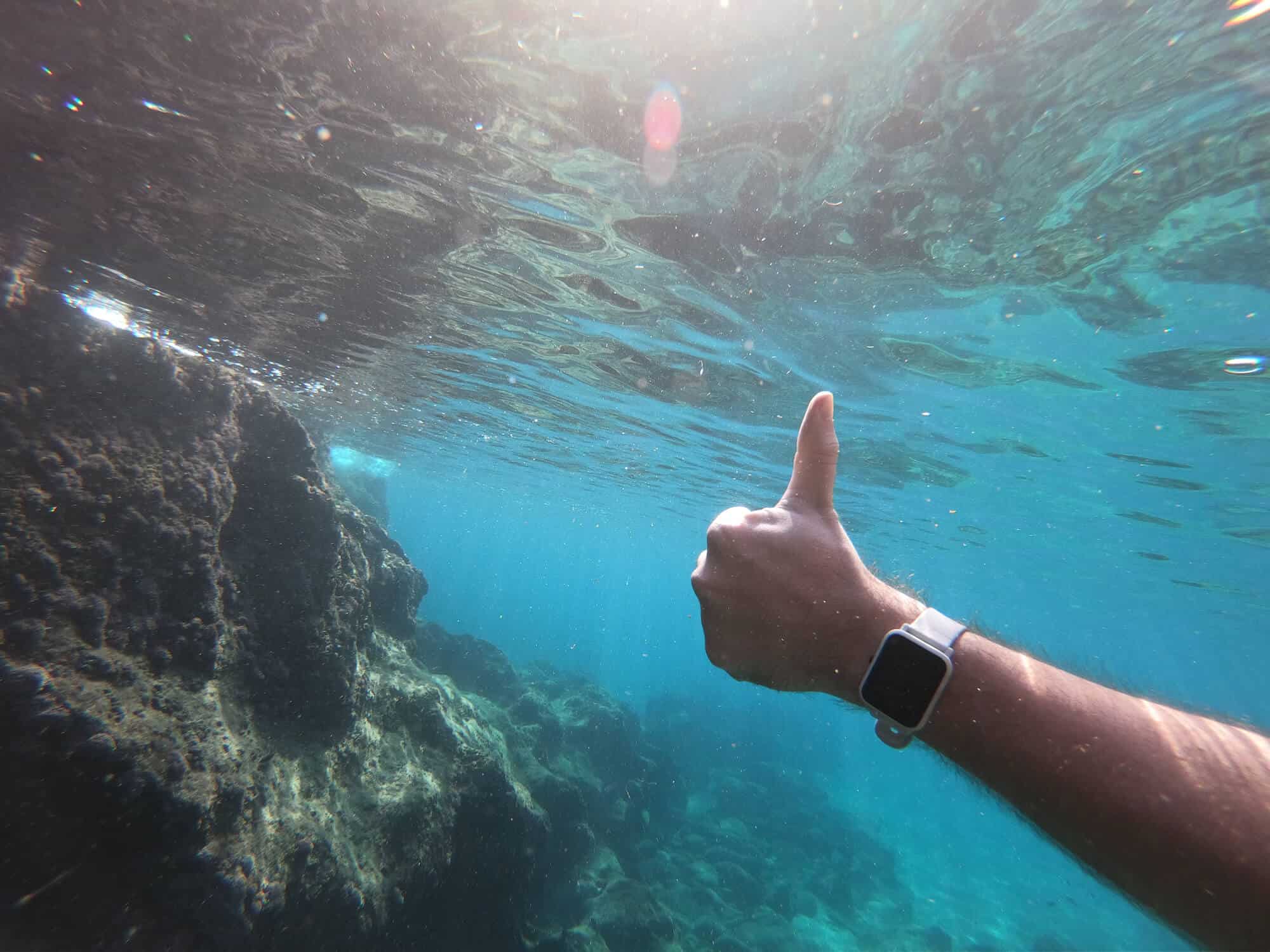 Therefore, look for a device that can withstand the potential damage that comes with play and exploration—bumps, scratches, falls, etc. Also, make sure it's protected by a hard plastic casing so it can brush away dirt, dust, and debris.
It's also wise to get your child a waterproof watch. This is especially true if you're planning to have him wear the watch for most of the day, or if your child loves going for a swim. Search for a watch with a waterproof rating of IP67 or IP68 at least.
Ease of Use
Because the watch is for your kids, make sure it's easy to use and navigate. If the watch is too complicated, they may not be able to use it.
Look for a watch with a simple, straightforward design and large lettering. Make sure it's easy to wear, too, so they can clasp it easily and safely without having to ask for your assistance.
GPS Tracker
One of the biggest reasons parents get their active kids fitness watches is because of the built-in tracker.
Fitness watches with GPS trackers let you know where exactly your child is whenever they're out on the run. With this feature, you can quickly pinpoint their location throughout the day to make sure they're not going too far.
Productivity Features
Children don't need watches that monitor calories or demand high step totals. They should have the following features instead:
Sleep monitor
Pedometers
Time-related features (i.e., stopwatches/timers and alarm clocks)
Physical activity tracker
Alerts and notifications
Design
Last but not least: design. The watch's design may not be as important to you as the other factors in this list, but it's certainly the most important factor for your child!
You don't want to force your child to wear something they don't want. If you want your child to wear the watch on a daily basis or at least every time they go out for their runs, it should look appealing and "cool."
It should have bold, kid-friendly aesthetics, like bright straps or cartoon wall screens. If you're unsure what to pick, ask your little one directly! This way, you're sure they'll use the product when it arrives.
What's a Good Age for Children to Start Running?
Children can start running from the age of 8 to 10. These runs should be light and short, depending on the child's level of fatigue. It shouldn't be treated as mandatory; it should be fun and exciting so they'll do it on their own accord.
Younger teens (13-to 15-year-olds) can safely attempt 10Ks (6.2 miles), but tweens (8-to 12-year-olds) shouldn't partake in anything more than 5K (3.10 miles) runs, three or four days a week.
Best Running Watch for Kids
Among the dozens of running watches we've looked at, only seven made it to this list. Here are some of the best running watches for kids, based on durability, functionality, and design.
1. Fitbit Ace 3 – Best Running Watch for Kids
Designed for kids aged six and up, the Fitbit Ace 3 is a fun, durable activity tracker with a lot of tricks up its sleeve. It has a battery life of up to eight days (two days more than its predecessor, the Ace 2) and up to 50 meters of water resistance, making it shower and swim-friendly.
The Fitbit Ace 3 is available in three colors: yellow, dark blue with green detailing, and black with red detailing. The display is a monochrome PMOLED, and it comes with a decent selection of watch faces (that animate when movement is detected).
This running watch tracks your child's steps, exercise time, active minutes, sleep, and sleep quality with its multiple built-in sensors and integrated accelerometer.
To encourage your child to partake in regular physical activity, the watch offers game-style rewards for reaching a certain number of active minutes of steps.
The Ace 3, unfortunately, doesn't have a GPS tracker. But if your child has their own phone, you can connect it to the Ace 3 so the watch receives notifications of calls and messages. This is extremely handy for when your child doesn't have his phone with him, like in gym class or track.
Pros
Waterproof to up to 50m
Comfortable, kid-sized fit
Fun, easy to accomplish challenges
Decent battery life of up to 8 days
Cons
Doesn't come with a GPS
Non-colored screen
Garmin is one of the biggest names in the smartwatch industry and for good reason. Its smartwatches are functional and attractive, with impressive battery life and durability.
The Garmin Vivofit Jr. 3 is the third installment of the Vivofit series, and it's better than ever. With over 10 different designs and over 20 colors to choose from, the Vivofit Jr. 3 looks more like a watch than a fitness tracker.
It doesn't come with a touchscreen, so some children might find it odd, but it also makes it easier to navigate and use.
There's a lot to love with the Vivofit Jr. 3. For one, it has incredible battery life. And when we say incredible, we mean it: it has a battery life of up to one year! It also comes with reward features that encourage kids to achieve active minute goals to unlock games, icons, and app adventures.
When connected to the Garmin app, parents can track their child's estimated steps, sleep hours, distance, and timed activities. They can likewise set scheduled alarms and alerts straight from their phones.
With a 5 ATM rating, this fitness watch is waterproof enough to wear on short swims or while in the shower. Plus, it features a large color display with a customizable widget!
Unfortunately, this watch doesn't come with a heart monitor or a GPS tracker. However, you can add your contact information directly to the watch through the ICE (In Case of Emergency) Widget, which is easily accessible.
Pros
Multiple design and color options (Disney, Marvel, Star Wars, etc.)
Customizable home screen
Battery life of up to one year
Cons
Doesn't come with a GPS tracker
Doesn't come with a touchscreen function
The Biggerfive Fitness Tracker perfectly balances price and functionality. You'll be hard-pressed to find a watch as low-priced as this one with the features it comes with. It's a solid option if you're on a budget, or simply searching for a watch that tracks your kid's running activities and nothing more.
This tracker supports up to 12 activity modes: walking, running, dancing, football, climbing, and more. When worn, it automatically tracks your kid's real-time heart rate, sleep hours, sleep quality, and steps taken. It also comes with a "calories burned" option, but you'll probably not care for that as much as your child's activity hours.
The tracker's battery lasts up to 7 days on a single charge. It's compatible with any USB charger, so you can plug it in anytime, anywhere without worrying about cable compatibility.
With an IP68 waterproof rating, the Biggerfive Fitness Tracker can be worn during showers or pool time.
Plus, it has a built-in alarm clock to help your kids wake up in the mornings without your help, and other reminders such as medication reminders, drinking reminders, study reminders, and so on. You can set up to 10 different alarm clocks per day.
The Biggerfive Fitness Tracker doesn't come with unique challenges or games, but it does allow screen customization. The screen is fairly big and kid-friendly, so it's not boring to look at.
Pros
Budget-friendly price
Large color display
Customizable clock face
14 sport modes
Cons
Not the most durable option; can easily get scratched if not careful
The Apple Watch SE is far from cheap, but if you have several hundred dollars to spare, you'll get your money's worth and more for the features and peace of mind it brings you.
This tracker is basically an extension of your kid's phone. It lets your little one call, text, and even get directions without having to unlock their phone.
With the SE's handy "Family Setup" feature, you can use your iPhone to manage and track the watch's activities. And since it has a GPS function, you can easily locate your kid's whereabouts at the touch of a button.
The SE gives your kid all the standard health-related fitness options found on iPhones: fitness tracking, health metrics, steps taken, sleep quality, etc. It also gives them access to the music function, which is especially great if your kid loves listening to music while he's out on a run.
If you think the watch might be too distracting to your kid's school time, fret not; it actually has a "Schooltime" mode that blocks almost all the features of the watch except the watch face.
It's important to note that the SE is better suited for teens between the ages of 12 to 15 as they're more careful about their stuff. At around $200, the Apple Watch SE isn't cheap—you certainly don't want to replace it after just a few months of use.
Furthermore, it has a low battery capacity compared to the others on this list; only 18 hours. This means that they must be responsible enough to charge the watch on a daily basis.
Pros
High-quality design
More features than you know what to do with
Tracks everything health-related
GPS functionality
Cons
Can be pricey for some
Low battery life
Can be complicated to use
Requires a service plan for some features
5. Cubitt Jr Smart Watch – Best Running Watch for Kids for All-Day Tracking
The Cubitt Jr has everything you need in a running watch: a step counter, a sleep and heart rate monitor, an activity tracker, and so much more.
With a large, 1.4-inch IPS colored touch screen, the Cubitt Jr. is one of the more premium-looking fitness watches in its price range. It features six sports modes, such as running, walking, and biking among others, and measures your child's daily activity throughout the day.
It also comes with 8 different games to play, 10 daily alarms to encourage good habits, and customizable watch faces.
This watch receives call and text notifications when paired with a phone. Your kids can answer calls and read text messages directly from the watch without having to pull out their phones during class or while running.
Since the watch comes with games, you might be worried that your child will play them at school. Cubitt actually foresaw this and added a parental lock on the games until it's time to go home. It has a battery life of 7 days, which is a good standard for fitness watches.
All activities can be tracked through the accompanying Cubitt app. Through the app, you'll see all your kid's running and health information, including temperature.
Pros
All-day fitness tracking with the built-in accelerometer sensor
Receives text and call notifications
Comes with plenty of games for kids to play during their free time
Bright, large display
Cons
Initial set up can be a bit complicated
Doesn't come with a GPS tracker
Fit for kids aged 5 and above, the Gogum Fitness is a good solution for parents looking for a simple, straightforward running watch without extra bells and whistles.
It has an activity tracker, a step tracker, a pedometer, and a counter watch, all of which are helpful in tracking your kid's running progress. You can likewise set up 20+ alarms for your kid as a gentle reminder to drink water, wake up, study, etc.
Available in 6 kid-friendly colors, the Gogum Fitness is easy to use and set up. Simply connect it to the dedicated Gogum app (available in the App Store and Google Store), create an account, and you'll immediately find all the necessary details you need: step, heart rate, calories, and distance.
The Gogum Fitness Tracker has an IP68 waterproof capacity, which means it's resistant to submersion of 1.5 meters underwater for up to thirty minutes. With this, your kid can easily wear it while showering or while playing in the water.
Pros
Intelligent 24-hour activity tracker
Replacement band included
Easy to set up and use
Cons
Isn't as sophisticated and feature-filled as other watches on this list
Conclusion
This concludes our list of the best running watch for kids! The watches above all track running activities, so you can't go wrong with any of them.
If we had to choose, we'd say the best running watch for kids is the Fitbit Ace 3. It's durable, functional, and waterproof, plus it comes in super cute designs and colors!
The Garmin Vivofit Jr. 3 is a close second, and the best pick if your child has a particular taste in accessories (i.e., Marvel or Disney).
It doesn't have a touchscreen function but that only makes it even more durable, as you don't have to worry about the screen dying on you. Additionally, it has a massive battery life: one year!
For the more budget-conscious, the GOGUM Slim Fitness Tracker won't disappoint. It has everything you need in a running watch in a neat, functional package. It isn't as premium as the Garmin or FitBit options, but it gives you a lot for your money.
Finally, if you can spare a couple hundred for a watch, absolutely go for the Apple Watch SE. It comes in multiple color options (pink, black, gray, and gold) and features an insane amount of functions, including GPS tracking!