There's a surprising number of underwear types and styles for men, but only a selected few are suitable for running activities.
To help you find the right pair, we've hand-picked some of the best men's underwear for running that you can buy today. We've also included a handy buyer's guide to lead you straight to your purchase!
Factors to Consider When Buying Men's Underwear for Running
For an average runner, owning a pair of running underwear isn't always necessary. You can probably get away with wearing traditional boxers underneath your running clothes during a run.
But if you're a long-distance runner or a man with thick thighs, you'll find running underwear quite beneficial.
To help you pick the right pair of sports underwear, consider the following factors:
Material
Sports underwear comes in a variety of material options, from Italian nylon to Egyptian cotton. The material you're choosing greatly impacts the strength, breathability, and durability of the product.
The most common materials used on sports underwear include synthetic fiber, hybrid fiber, spandex, and cotton.
Synthetic Fiber
Synthetic fibers, like nylon, polyester, and polyester-spandex mixtures, make up 90% of the market's running underwear. They're not the most comfortable, but they're lightweight, breathable, and feature moisture-wicking properties that repel sweat that enter the material.
Hybrid Fiber
Hybrid fibers retain the strength of synthetic fibers while adding the comfort of natural fibers. Runners often prefer undergarments made with hybrid fibers because they prevent chafing.
Spandex
Spandex is another popular choice among underwear companies. This polyurethane-based material retains the garment's original shape even after repeated stretching and washing. It's also resistant to wear and tears caused by sweat, body oils, detergents, and the like.
Underwear made of spandex is tight-fitting but comfortable. However, spandex fabric isn't breathable, trapping sweat, moisture, and bad odor within the garment.
For this reason, spandex isn't suitable for athletes with sensitive skin and an aversion to latex.
Cotton
If you value comfort over anything else, cotton is your answer.
Egyptian cotton is considered to be one of the softest and highest-quality fibers on earth. It's much stronger and longer-lasting than your typical cotton, making it a good choice for frequent runners.
The only disadvantage of Egyptian cotton is that it absorbs moisture and perspiration quickly, so it may not be the best choice for long-distance runners who sweat a lot.
Style
Men's underwear comes in a variety of styles, but only a selected few are suitable for high-performance sports activities like running.
Moisture-wicking boxers, for instance, don't give you the needed crotch support during a run. They'll most likely cause your manly bits to flop around while jogging or sprinting.
Jockstraps are good for running because they prevent your genitals from moving excessively. However, they're not often the most comfortable for long-distance running.
Here are some of the best athletic underwear styles you'll find today:
Boxer Briefs
Boxer briefs are the best of both worlds; they're as long as boxers but as tight as briefs. This design provides athletes a modal level of support, making them the number one choice for sporting activities.
Boxerjocks
Boxerjocks, also known as support briefs, are a combination of briefs and jockstraps.
They offer the same tightness and compatibility of regular briefs but with the additional protection of jockstraps.
This design provides stability and sufficient insulation from cold weather.
Trunks
Trunks are similar to boxers but much shorter, giving them a sort of square profile. Trunks are suitable for moderate activities during warm weather.
Compression Shorts
Compression shorts come with waist and thigh straps to assist with compression.
Compression shorts are arguably the best type of undergarment for high-intensity sports and workouts. This is primarily because they enhance recovery by increasing blood circulation and tissue oxygenation. They also dramatically reduce muscle soreness and chafing.
Durability
Durability is another important factor to consider when buying running underwear. You don't want to constantly buy a new pair after a few weeks of use. Good-quality running underwear should last months, if not years, especially if care and maintenance are followed.
When buying a pair of running underwear, make sure it's made from high-quality fabric. Polyester-based materials are usually the most durable, so they come highly recommended for runners. In addition, they're breathable and lightweight.
Cotton is a fantastic choice, as well. They're easy to look after and can withstand multiple washes. Furthermore, they're much more comfortable than polyester-based materials.
Regardless of the material you choose, always read through customer reviews to determine the material's durability and longevity.
Size and Fit
Regular boxers and briefs just won't do with high-performance sports. You need a pair that offers thigh and leg compression, as well as a looser hip fitting. The material must also be flexible enough to allow a multi-directional stretch when running or training.
When buying running underwear, make sure it's form-fitting but not tight. Too tight underwear restricts blood flow and may cause chafing. Loose-fitting underwear, while comfortable in some instances, provides little to no support and protection.
To choose the right size and fit, you'll have to measure your waist and hips with a measuring tape. Keep your abdomen natural when taking the measures. Don't contract or flex your muscles.
List down the measurements and consult the sizing information to ensure you're taking the measurements properly.
Moisture-Wicking Properties
You certainly don't want your underwear feeling damp and soggy while you're on your runs, so, as much as possible, choose underwear with moisture-wicking properties.
Synthetic blends like nylon or polyester have fantastic moisture-wicking properties, which is why they're almost always used in athletic wear.
If you're not a big fan of synthetic blends, search for underwear made with natural fibers that are known to wick away sweat, like merino wool, rayon bamboo, or Pima cotton paired with synthetic materials.
Odor Control
When working out, body odor is almost inevitable. Luckily, some companies took this into consideration and developed underwear that has odor control properties.
If you're going with synthetic underwear, search for a pair with anti-microbial properties to prevent it from developing foul-smelling sweat residue after your runs.
If you're more of a natural fiber guy, look for fabrics treated with silver or volcanic ash. Merino wool is a brilliant choice, too, as it's known for its ability to repel foul odor.
Season
If you're a serious runner, it's always a good idea to buy seasonal underwear.
Get yourself a pair of breathable underwear for summer, and thermal underwear for winter.
For trail runners, consider getting a pair of insulated compression pants to protect you from the chilly temperature of higher altitudes.
Traditional Underwear vs. Active Underwear: What's the Difference?
Active underwear, such as those for runners, offer multiple benefits that traditional underwear don't.
Most active underwear feature therapeutic compression properties that promote better circulation, thereby reducing muscle soreness.
They also allow athletes to control their leg movements better than regular underwear. Most importantly, they provide protection to sensitive areas like the crotch and prevent chafing.
Since they're specifically designed for runners and athletes, they're way more comfortable than the alternative.
If you're not a daily runner, you can wear regular underwear underneath your running clothes. However, if you're an athlete or simply love going for a run in the morning, it's a good idea to invest in a pair of running underwear.
10 Best Men's Underwear for Running
Now that you know what to look for in running underwear, here are our top picks based on comfort, breathability, and material quality!
The Nike Men's Baselayer Training Shorts has it all; ultra-soft fabric, a skin-tight compressive fit, and just the right amount of stretch for all-day support, mobility, and comfort.
Made with sweat-wicking Dri-Fit technology, the Baselayer compression shorts keep you dry and comfortable on your runs. They provide enough compression to increase your blood circulation during high-intensity activities.
The Baselayer is so lightweight that you'll forget you're wearing them. Although they're tight-fitting, they're smooth and comfortable on your skin.
Pros
Lightweight design
Comfortable and soft
Made with quick-drying breathable fabric
Cons
Available in an array of colors and designs, the Pair of Thieves Long Boxer Briefs impresses in both style and comfort.
Made from 85% polyamide and 15% spandex, these boxer briefs are moisture-wicking, quick-drying, and breathable. They'll keep you cool all day long, so you don't have to worry about sweat seeping into your underwear after a long run.
The Pair of Thieves Long Boxer Briefs is snug and designed with a tag-free waistband and a no-chafe flatlock.
Thanks to its four-way stretch fabric, these boxer briefs don't ride up. That means no more "wedgies" during your runs!
Pros
Multiple design options
Comfortable fit
No-chafe seams
Functional fly for easy access
Cons
Waistband too tight for stockier men
Made of 88% polyester fiber and 12% spandex, the Roadbox Compression Shorts is form-fitting and comfortable. Its moisture-wicking material expels heat generated by sweat and exercise, keeping the skin underneath fresh and cool.
The Roadbox Compression Shorts is designed to eliminate discomfort caused by high-performance activities, reducing the risk of stiff and sore muscles. Its leg supports improve blood circulation and reduce chafing during intense athletic activities like jogging, running, or sprinting.
The material itself is incredibly soft and skin-tight. It also features excellent elasticity to allow free and unrestrained leg movement.
For your convenience, the Roadbox Compression Shorts come with two large pockets on either side to hold your daily essentials, like your smartphone or AirPods.
Pros
Immensely flexible
Comes with large pockets
Good quality fabric
Well constructed
Cons
Might be too tight for some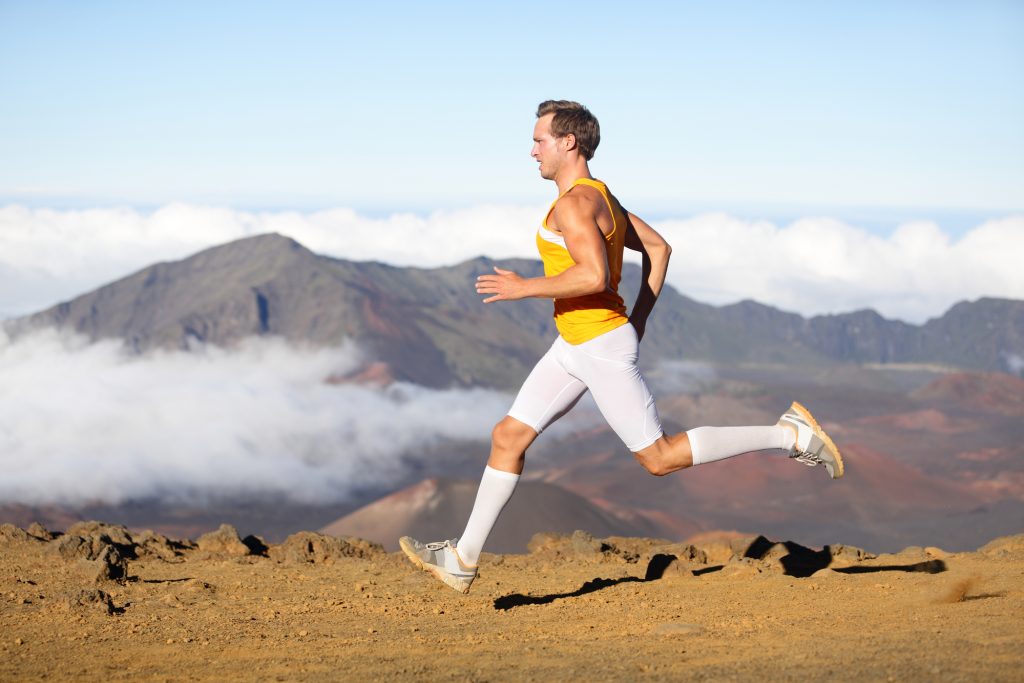 Champion is known to produce some of the best athletic underwear in the world, and the Champion Men's Compression Shorts aren't any different.
The Champion Men's Compression Shorts are designed with flatlock seams to prevent chafing during long-term activities.
They're made with Champion's sought-after Quick-Drying Vapor Technology that effectively evaporates moisture from the material, keeping you cool and dry while running. In addition, they wick moisture away from the skin through their Moisture Management Technology.
These shorts have a body made of 84% polyester and 16% spandex, and an insert made of 92% polyester and 8% spandex.
Pros
Lightweight construction
Comfortable fit
Quick-drying fabric
Cons
Fabric isn't very stretchy
Lightweight and made with breathable synthetic fibers, the ExOfficio Men's Give-n-go Briefs are designed to keep you cool during your afternoon runs.
They're made from 94% nylon and 6% lycra spandex, which makes them as comfortable as they are durable. In addition, they feature odor-reducing qualities to keep them fresh all day long.
Designed with a wickable mesh fabric, the ExOfficio repels moisture and sweat to keep you dry. Furthermore, they're form-fitting and supportive without being too constrictive.
Pros
Breathable material
Lightweight
Comfortable wear
Cons
High rise
Elastic loses its elasticity after a few washes
Available in 12 color options, the Adidas Relaxed Performance Climalite Boxer Briefs are among the best active sports underwear in the market.
They're made from 91% polyester and 9% spandex, giving them just the right amount of stretch needed for intense sports activities.
As the name suggests, the Adidas Relaxed Performance delivers all-day comfort and support. The smooth stitching and tagless waistband remove itching and chafing, making them suitable for long-term sport.
The material is soft, flexible, and quick-drying. Although they aren't tight-fitting, they're designed with a no-ride-up construction to ensure comfort.
Pros
Excellent breathability
Lightweight design feels like you're "going commando"
Superb elasticity
Cons
Might feel too thin to some
Under Armour's Charged Cotton Boxerjock is one of the best-selling boxerjock lines across the US. It's made with 57% cotton, 38% polyester, and 5% elastane, so it's no wonder it's so soft and comfortable.
Although it's primarily made from cotton, it dries quite fast thanks to the added polyester and elastane.
It's made with a four-way stretch design, giving runners the freedom to move in every direction without feeling discomfort. It also doesn't have any side or back seams to prevent itching and chafing.
Pros
Ultra-breathable fabric
Second-skin feel
Impressive stretch
Cons
Rides too low at the waist
The David Archy Breathable Boxer Briefs are comfort personified.
Made with 95% Rayon and 5% Spandex, it wears as good as cotton fabric and feels as soft as silk. Rayon, a fabric made from cellulose fiber, is often praised for its durability and breathability, both of which are seen in the David Archy Boxer Briefs.
These boxer briefs come with a 3D ultra U-pound for extra crotch room. With about five and a half-inch of leg length, they don't ride up even when you're sprinting.
Designed with a single clean-cut, the David Archy is 100% wedgie-free. With this, you won't have to worry about pulling the boxer briefs down after every mile of your run.
Pros
High-quality long-lasting fabric
Roomy crotch space for extra comfort
No-wedgie design
Cons
The Saxx Kinetic HD Boxer Briefs are specifically designed for men who participate in high-output sporting activities like running and sprinting.
These semi-compression boxer briefs feature a comfortable four-way stretch for maximum freedom and comfort. Additionally, they're equipped with a BallPark Pouch to prevent chafing and friction. They also keep your man-parts in place while running.
For the ultimate ergonomic comfort, the Saxx Kinetic Boxer Briefs are designed with a Three-D Fit and flattened out seams to prevent itchiness and irritation.
Pros
Designed for comfort
Decent stretch
Feature a breathable contoured pouch
Cons
Calvin Klein is one of the world's most recognizable underwear brands, and for good reason. Its underwears are comfortable and high-quality, making them an easy no-brainer purchase.
Among all the underwear designs Calvin Klein has in its lineup, the CK Microfiber Low Rise Trunks are perhaps the best.
Although it's designed for casual wear, it's comfortable and flexible enough to use in high-intensity sports activities.
These trunks are made from a microfiber polyester blend for an extra smooth feel. They're rapid drying and moisture-wicking, as well, so you can run for miles without feeling the discomfort of your sweat on your underwear.
Pros
Soft and pliable
Incredibly comfortable
Decent fit
Cons
Waistband rolls over when wearing
Final Thoughts On The Best Men's Underwear for Running
Wearing the wrong pair of underwear when engaging in high-performance activities can hinder overall performance. The right pair of underwear improves your workout experience ten-fold; not only because it adds protection and comfort, but also because it gives you the flexibility to move without any restrictions.
The products above are individually chosen for their material quality, durability, and breathability during a run. If we had to select only one, though, the best running underwear is hands-down the Nike Men's Baselayer Training Shorts.
They're snug enough to hold everything in place without feeling too tight. They also have adequate ventilation to keep you fresh throughout the day, even when partaking in intensive activities.
Regardless of the brand you choose, make sure you're getting the right size. The underwear must be snug but it shouldn't constrict your hips and thighs. It must also measure moisture-wicking properties and odor control.
So, what's your favorite underwear for running? Let us know!