Flat feet can make your life miserable when you're a runner. If you want to learn how to help fix your flat feet, stay tuned. We're here to help!
How to Fix Flat Feet
You've sworn never to fall victim to shin splints again, but your flat feet are working against you. We have practical advice on how to banish this common runner's foe.
What's Wrong with Having Flat Feet?
Flat feet can keep runners from reaching their full potential. Flat feet can sideline you from running because of the laundry list of injuries they can cause.
Flat feet can cause or aggravate overuse injuries like back problems, ankle pain, and shin splints. They can also cause heel spurs.
What Can I Do to Fix My Flat Feet?
Luckily, if you have flat feet, you aren't destined to hobble around for the rest of your life. You love running too much to do that! There are workable solutions for your problem and some of them are quite easy to implement.
Here are some of the things you can do:
1. Find the Right Shoes
Runners with flat feet should look for shoes with stability or motion control. You need to try to cut back on pronation by finding shoes with midsoles that are firm, not cushiony.
If someone tells you to try a running shoe that makes you feel like you're running on a cloud, you should lace up your shoes and run in the opposite direction. Cushioning is your enemy because it will give you pronation, which is what you don't want.
You should also look for shoes that have a low arch.
2. Don't Forget to Stretch
Stretching exercises won't cause you to suddenly develop an arch, but they can help cut back on some of the pain and tightness you'll feel as a flat-footed runner.
Even simple stretches like the towel grab and the can roll can bring you relief.
Just remember to do your stretches after every run. Even stretching for five minutes can help with the pain.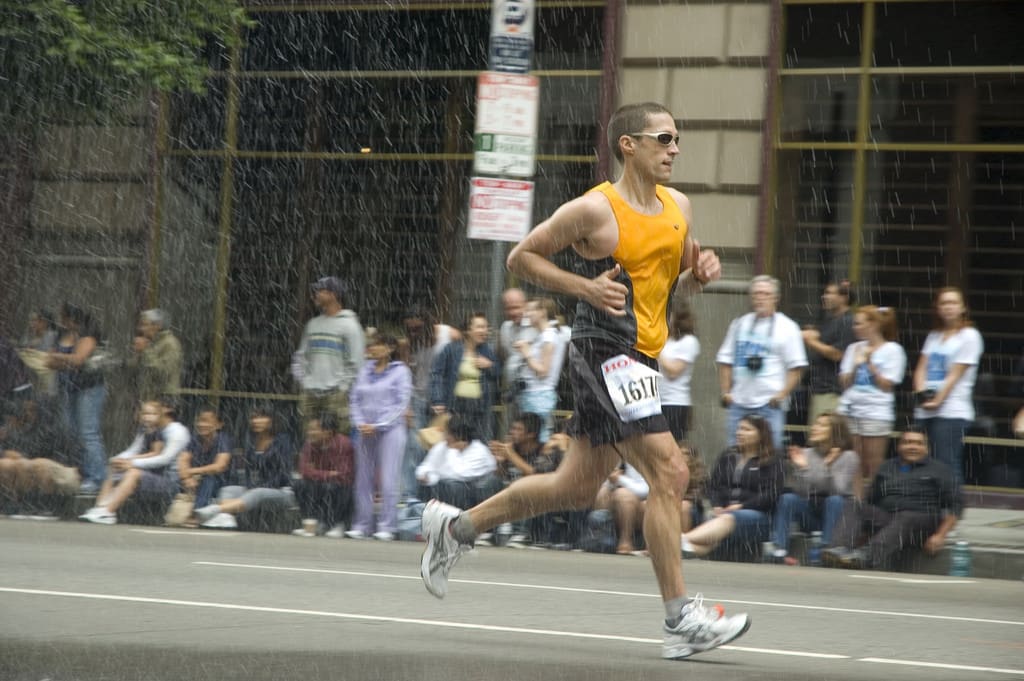 3. Stay on Steady Ground
It's okay to tackle hills and inclines, but you don't want to run on uneven surfaces that can contribute to your pronation issue.
You should stay away from trails or running on grassy areas. That uneven territory, even with the softer surface, can do more harm than good for you.
That doesn't mean you have to give up trail running forever — just don't do all of your runs on trails. You should vary it up by running on a soft, even track whenever you can.
4. Consider Using Insoles
If you have a certain style of running shoe you never intend to give up, you might want to use insoles to help you with your flat feet. As long the insoles fit into your dream shoe, you should be good to go.
When looking for the insole that's right for flat feet, you should look at supportive ones that offer stability for both your heel and your arch.
If you have flat feet, you're going to need your insoles to hold up well mile after mile. This isn't a problem that's suddenly going to go away — you were likely born with flat feet.
Since you'll be dealing with this situation for the rest of your running career, you need to focus on buying high-quality insoles. They may be a little more expensive, but they'll hold up well and do a much better job of giving you the support you need than cheap insoles will.
Keep At It
If you use these tips on how to fix flat feet, you'll eventually find something that works for you. The key is to keep at it until you find the solution you want.
While you might wish you had the normal arches other runners do, don't forget that there have been great, world-class runners who have had flat feet just like you.
Flat feet has nothing to do with your talent as a runner. So go out there and give it your all!
Even if your feet have some aches and pains, the rest of your body will be thanking you for the workout.